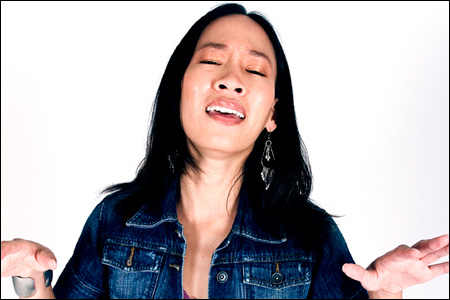 Kelly Zen-Yie Tsai
Age: 30
Spoken Word Artist
Why she's influential: Because she rocks mics.
Kelly Zen-Yie Tsai
is a Chicago-born, Brooklyn-based Chinese Taiwanese American spoken word artist who, according to her bio, "fights for cultural pride and survival through how she spits and how she lives," and has brought her unique voice to microphones and stages far and wide.
Kelly's entertaining, thoughtful and politically potent spoken word has taken her to performances all around the world, and in hallowed venues like the Nuyorican Poets Cafe, the House of Blues, the Apollo Theater, Kennedy Center, Lincoln Center, and three seasons of the award-winning
Russell Simmons Presents HBO Def Poetry
... but she ain't no stage diva.
As her friend Steve Lin (who nominated her) puts it, Kelly possesses "a dedication to social justice, a sharp eye for power dynamics, and a silver tongue to break it all down in verse." And that's what I love about Kelly's words -- they strike just the right balance of fierce political consciousness when the message demands it, then pull back to breathe, to consider, and to celebrate.
Kelly is the author of
Inside Outside Outside Inside
(2004) and
Thought Crimes
(2005) and the CD
Infinity Breaks
(2006). I instantly became a fan after seeing the video
By-Standing: The Beginning of an American Lifetime
. Today, I'm enjoying her haiku tweets on
Twitter
. She's a powerful and needed voice in the arts community, and I can't wait to see what she does next.
See the rest of the 30 Most Influential Asian Americans Under 30
here
.