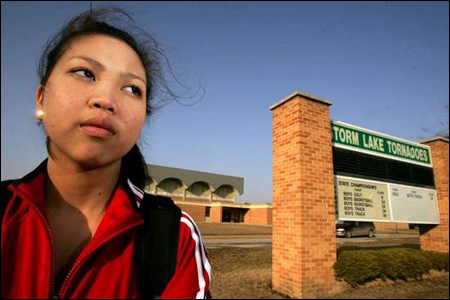 Lori Phanachone
Age: 18
High School Student
Why she's influential: Because she's English-proficient, and didn't have to prove it. Okay, so this is a little unfair, since this young person -- who I'm sure has an extremely bright future ahead of her -- is really on this list for doing one thing. But it's a good one. Lori Phanachone, a Laotian American high school senior at Storm Lake High School in Iowa, made headlines when she defied school administration and
refused to take
a demeaning and racist English language assessment test.
Lori is a member of the National Honor Society, has a 3.9 grad point average, ranks seventh in her class of 119 and has been offered a number of college scholarships. All of that was threatened, however, when she refused to take the exam, which school official deemed mandatory because Lori indicated on her school registration that English was not the first language spoken in her home.
Rather than take the test, she took school suspension... and earned the respect of a lot of people -- myself included. I think any immigrant, or children of immigrants, could relate to this on some level. Thankfully, AALDEF stepped in to help, and with pressure on the school district and changes in curriculum requirements, it was eventually decided that Lori
would not have to take the test
.
Something about this whole situation really struck a nerve with Asian Americans far and wide, and Lori found herself in the center of a much larger discussion about the ways in which education, culture and language define who and who isn't American. This should not be the act that defines her, but so far, Lori's stand indicates we can perhaps expect impressive things from her in the future. No pressure, though.
See the rest of the 30 Most Influential Asian Americans Under 30
here
.