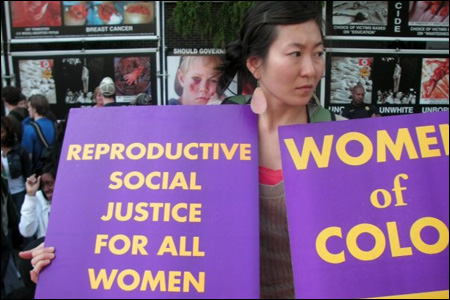 Mia Mingus
Age: 28
Co-Executive Director, SPARK Reproductive Justice Now
Why she's influential: Because she's an agent of real-world change in the reproductive justice movement. Mia Mingus is a queer, physically disabled Korean American transracial/ transnational adoptee, living and organizing in the Southeast. She currently serves as one of the Co-Directors of
SPARK Reproductive Justice Now
in Atlanta and believes that reproductive justice is crucial in the struggle for social change and the fight to end oppression.
Mia is an activist, organizer, thinker, writer, artist and speaker who's not only in the middle of it all, but connecting it all together. Through her work on disability, race, gender, reproductive justice, sexuality, transracial and transnational adoption, and intersectional identities/politics, she recognizes the urgency and barriers for oppressed communities to work together and build alliances for liberation.
If you're at all involved with the queer, API, and/or disability social justice movements, you know that Mia is a transformative figure. Maybe you saw her speak at the
US Social Forum Plenary on Gender and Sexuality
or attended her workshop on Reproductive Justice at NAASCON 08. Perhaps you heard her speak as the keynote of the Western Regional Queer Conference 09 or receiving the
Creating Change Award
from the National Gay and Lesbian Task Force.
Though her activism changes and evolves, her roots remain firmly planted in ending sexual violence. On top of all that, everyone I spoke to about Mia describes her as a warm, thoughtful, accessible, and incredibly nice.
I'll leave you with a quote from Steph Lee, one of several people who nominated Mia: "The fierce leadership of a young, queer, disabled, transracially/ transnationally adopted Korean woman should be recognized so that we can continue to more lovingly and effectively connect, break shit down, and keep building shit up."
See the rest of the 30 Most Influential Asian Americans Under 30
here
.