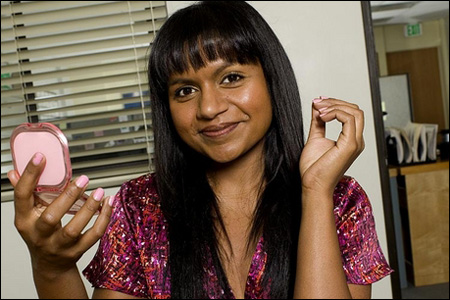 Mindy Kaling
Age: 29
Writer/Producer/Actress,
The Office
Why she's influential: Because she keeps us laughing. A lot. Actress/comedian Mindy Kaling, aka Vera Mindy Chokalingam, is best known for her role as the idiotic, ultra-chatty Kelly Kapoor, as well as writer and co-executive producer on the hit award-winning NBC sitcom
The Office
. And thank goodness, Mindy is pretty much nothing like Kelly, in every way that counts.
Since getting hired as a writer/performer on the show in early 2004, she's written a number of key episodes ("The Dundies," "The Injury," "Diwali," to name a few), and has brought her vapid, airhead charm to the ensemble as Kelly, helping the American version of
The Office
set itself apart from the original British series, and come into its own as a comedy.
Prior to
The Office
, Mindy first started turning heads co-writing and co-starring as Ben Affleck (yes, you read that correctly) in the hit off-Broadway play
Matt & Ben
, which won the New York International Fringe Festival's Best Play prize and went on to be a featured selection at the U.S. Comedy Arts Festival in Aspen. The play was named one of Time Magazine's top ten theatrical events of 2003.
Just recently, she signed a Tina Fey-esque
two-year, seven-figure contract
with NBC to develop and star in a new comedy while continuing to write, produce, and act in
The Office
. This, of course, is only Mindy Kaling's first move in her master plan to take over the world. Can't wait to see it.
See the rest of the 30 Most Influential Asian Americans Under 30
here
.