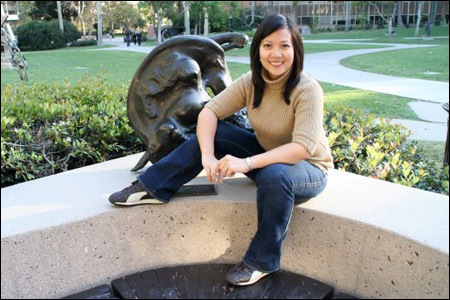 Naomi Tacuyan-Underwood
Age: 28
Deputy Director, Asian Pacific Islander American Vote
Why she's influential: Because she rocks the AAPI vote. A Filipina who hails from the U.S. island territory of Guam, Naomi T. Tacuyan is currently APIAVote's Deputy Director, managing media and partner communications, refocusing the organization's branding efforts and online presence, and providing media strategy trainings and technical assistance for APIAVote partners. In the 2008 elections, APIAVote was instrumental in bringing to light the growing importance of the Asian American and Pacific Islander vote.
Naomi also advises KAYA - Filipino Americans for Progress on organizational and program development, and is active with KAYA's D.C. chapter. Her experience also includes a gubernatorial campaign on her home island of Guam for former representative to Congress, Robert A. Underwood. She handled media buys and relations, as well as field and outreach strategies to various constituencies.
She has also previously served as Communications Director for the National Committee for Responsive Philanthropy, Program Coordinator for the National Coalition for Asian Pacific American Community Development, Board Member for the D.C. chapter of the National Asian Pacific American Women's Forum, and an active volunteer with the National Alliance for Veterans Equity, the movement to restore full veterans' benefits to Filipino World War II veterans.
According to friend and mentor Vida Benavides (who nominated her), Naomi's got the 'It' factor: "She has 'IT' when it comes to leadership potential and growth that is solidly grounded and comfortable in her own skin and voice." Indeed. If it sounds like I'm just been rattling off the details of Naomi's bio/resume, it's because I am. But she's an impressive woman who deserves to be recognized.
See the rest of the 30 Most Influential Asian Americans Under 30
here
.