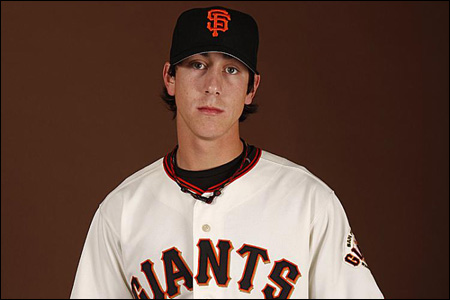 Tim Lincecum
Age: 24
Pitcher, San Francisco Giants
Why he's influential: Because, man, he can throw. Tim Lincecum, starting pitcher for the San Francisco Giants, is a freak. That's actually what they call him. "The Freak." At 5'11", 172 lbs., the right-handed hurler has a shaggy mop of hair and the face of a 18-year-old, but throws a mighty 98 on the mound. The winner of the
2008 National League Cy Young Award
-- Major League pitching's highest honor -- he's quickly established himself as one of the top pitchers in the game.
Drafted 10th overall by the Giants in the MLB draft, going in 2007 Lincecum was considered one of the top prospects in baseball... and he made good on that assessment. San Francisco might be off to a rocky start this season, but the team boasts a world-class pitching staff anchored by Lincecum, who went 18-5, with 2.62 ERA and led Major League Baseball with 265 strikeouts last year.
I won't pretend to fully understand the mechanics of pitching, but Lincecum is armed with a repertoire of what are described as "unhittable pitches," powered by his massive stride and overhand delivery. Fastball. Curveball. Changeup. You can't hit this. Perhaps coolest of all, the Cy Young win also nabbed him the distinction of getting immortalized on the cover of the video game
MLB 2K
.
See the rest of the 30 Most Influential Asian Americans Under 30
here
.