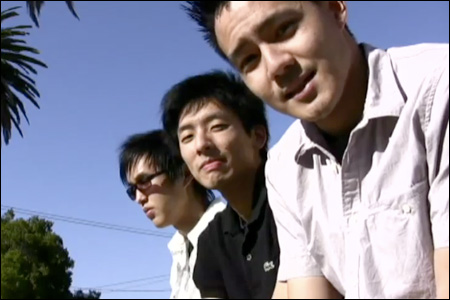 Wesley Chan, Ted Fu and Philip Wang
Age: 24, 27, 24
Wong Fu Productions
Why they're influential: Because they're making media their own way. Ted Fu, Wesley Chan and Philip Wang started making amateur videos as students at UC San Diego, and have since completed a large resume of music videos, shorts and features under the full-time banner of their independent production company
Wong Fu Productions
. But more importantly,
a lot
of people are watching.
It started out like a lot of these things do -- a group of friends messing around, making silly videos and sharing them with friends. But the guys soon found themselves with an online sensation, a massive following, and a calling. Since going online in 2003, Wong Fu has reached millions of viewers -- particularly young people -- around the world, and turned their imprint into a successful brand.
Wong Fu have dedicated themselves to making media and getting it out their on their own terms. They're downright prolific, producing wildly popular content and maintaining a fan-friendly online presence that has earned them a huge following. In addition to college speaking tours and screenings, their films have taken to a variety of venues, including the prestigious Cannes International Film Festival.
They've also committed a large part of their mission to spotlighting and collaborating with other talented Asian American artists, producing music videos for the likes of Far East Movement, Magnetic North and David Choi. Most recently, Wong Fu started producing the International Secret Agents concert series, showcasing rising Asian American talent breaking barriers in mainstream media.
See the rest of the 30 Most Influential Asian Americans Under 30
here
.