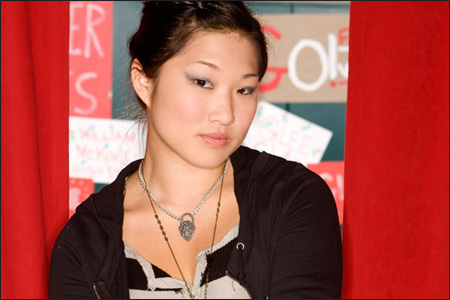 If you're planning on watching the
American Idol
season pre-finale tonight, stick around afterwards for the premiere of the new musical comedy
Glee
. Tonight's being touted as a "preview event," since the rest of the series doesn't actual air until the fall. Guess they couldn't wait to give viewers a taste.
I got a chance to take a look at the pilot a couple of weeks ago, and I have to admit, it's surprisingly a ton of fun, and -- unlike
High School Musical
-- totally watchable.
Jenna Ushkowitz
is in the show's cast as Tina, "an awkward girl who needs to suppress her stutter before she can take center stage."
She doesn't have a huge part in the pilot, but you do get to hear her sing a bit. If you're into musical comedies, or geeky high school underdog misfit stories, or maybe even if you're not, you might enjoy this show. Watch the extended trailer
here
.