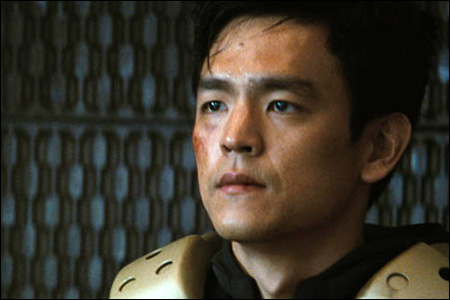 Well, today's the day, Trek fans. At long last, the new
Star Trek
movie arrives in theaters. Director J.J. Abrams' big screen reboot of the enduring sci-fi franchise re-imagines the beginnings of legendary U.S.S. Enterprise crew -- Kirk, Spock, Bones, Scotty, Uhura, Chekov, and of course, Sulu.
As I
mentioned before
, I was able to catch an early screening of the movie a few weeks ago, and enjoyed it immensely. It's just a really fun ride, for both die-hards and new fans alike. Being a huge
Star Trek
fan myself, I wasn't disappointed.
Though he actually doesn't get a huge amount of screen time,
John Cho
does an admirable job as Hikaru Sulu, and definitely gets his moment of some kickass action. Cool to see him do the badass thing, at least briefly. For a moment, you might even forget you saw his naked ass in
Harold and Kumar Escape From Guantanamo Bay
.
I heard that John Cho actually cut his hand while filming his big action sequence. Now that I think about it, when I interviewed John last year, he was nursing an injured hand with a conspicuous bandage. It all makes sense now!
What's also really cool about this new
Trek
movie is its diverse, inclusive vision of humanity in the future. It takes a lot of manpower to traverse the final frontier, and lots of Asian faces are peppered throughout Starfleet in the movie. In my first viewing of the movie, I spotted
Freda Foh Shen
,
Kelvin Yu
,
Reggie Lee
and
Faran Tahir
as Captain Robau. Minor roles, but cool to see them all the same.