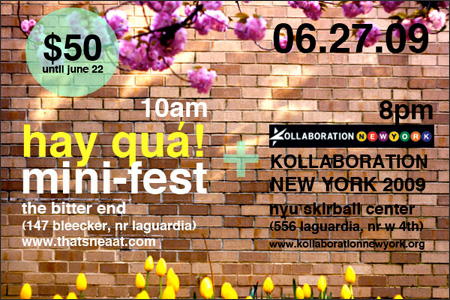 Vietnamese American friends in NYC, mark your calendars...
"That's Neaat!/Hay Qua!" Mini-Fest
, a collaboration between
VASCON
and
NEEATO
, presents its imaginative, unconventional, TED-inspired out-of-the-box program on Saturday, June 27 at The Bitter End in New York. According to the press release:
Mini-Fest has at least one goal: to alter the way you think about life, dreams, and everything in between. Already, rabble-rousing publishers, award-winning architects, writers, musicians, film directors, environmentalists, and rising chefs are signing up to present their bite-size talks and performances about what stirs their hearts and opens our eyes.
There's not a lot of information currently on the website, but the event is promising to be one of those cool events you'll regret missing. They've also partnered up with
Kollaboration New York 2009
to bring you a discounted 2-in-1 early bird registration package for just $40, now through the end of the month. So be sure to register and get your
tickets
now.