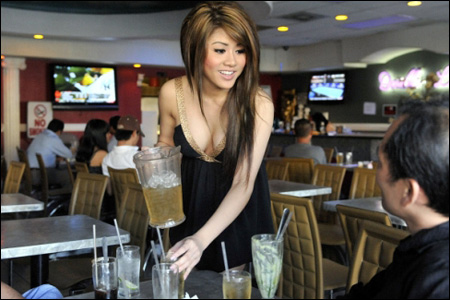 A new trend hitting Orange County cafes is creating quite a stir... Java spots like Cafe Lu and Cafe Di Vang 2 are apparently packed day and night with customers, although all they're serving up is coffee, tea and smoothies. Oh, and cleavage:
Sexy cafes are Little Saigon's twist on Hooters
.
I'd like to think the secret's in the coffee, but I'm pretty sure it can be attributed to an extremely clever marketing strategy: scantily-clad waitresses in tube tops, micro mini skirts and stiletto heels. And it appears to be working. Hell, the coffee could taste like dirt water and I doubt it would really matter.
They're calling it "Asian Hooters for coffee." The clientele is -- surprise, surprise -- mostly male. And the trend is blowing up. This particular cafe culture is reportedly springing up Little Saigons in other cities outside of Orange County. More here:
Sexy New Vietnamese Cafes
.