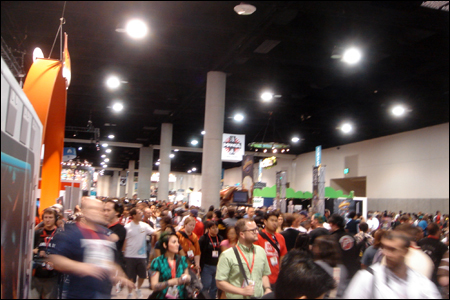 Over the weekend, I joined thousands of fellow fanboys/girls at the San Diego Convention Center for the massive geek gathering known as
Comic-Con
. This year, I was only attending for one day -- the busiest day of the Con -- so I braved the lines, crowds and costumes to pack it all in. Here are some of the things/people I saw.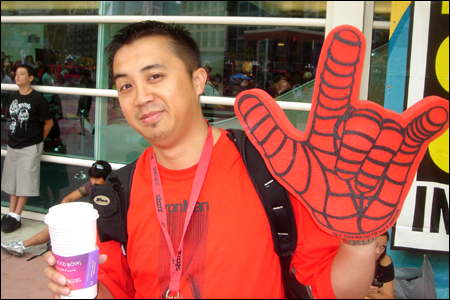 I get to the convention center, and the first person I run into? Filmmaker and friend
Patricio Ginelsa
, rocking the foam Spidey hand. This guy had the scoop on all the cool Comic-Con exclusives.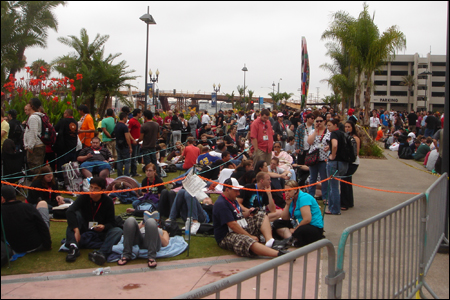 Here's line to get into Hall H, where all the big buzz panels take place. This is actually just the front of the line. I got there two hours before the start of the
Lost
panel, but some people actually camped out in line all night. I thought I was
Lost
fan... but compared to these folks, I'm a novice.
Ah, the extremely popular annual
Lost
panel, gathering at Comic-Con for the last time in anticipation of the final season. This is a shot of show producers Carlton Cuse and Damon Lindelof, projected on the big screen. They were joined by cast members, Jorge Garcia, Michael Emerson, Nestor Carbonell, Josh Holloway and Dominic Monaghan. Word is, the final season will "close the loop" of the show's story arc, so that means season six will somewhat resemble season one... whatever that means. Wait and see.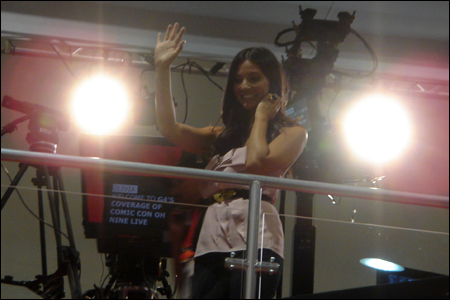 Inside the main exhibit, there are crowds. Lots and lots and lots of crowds. And no one gathered more crowds than the live taping of G4's
Attack of the Show
. Specifically, co-host
Olivia Munn
. The crowd went absolutely insane any time she would just look down and wave. Right around when I took this photo, I really wished I had a better camera.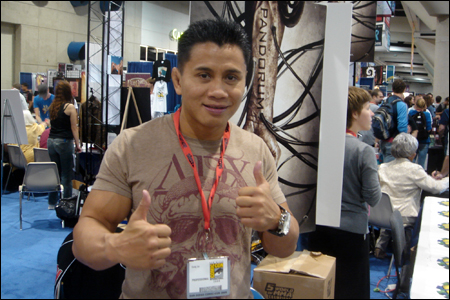 MMA champion fighter
Cung Le
was at Comic-Con to shake hands and meet fans. He'll be appearing in upcoming the sci-fi thriller
Pandorum
. When I asked him about his role in the movie, he specifically told me he's there to "represent for the Asians." I thought that was pretty cool.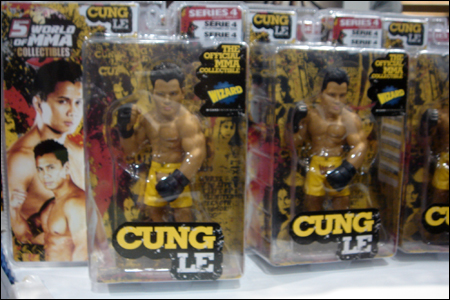 A man of action deserves an action figure.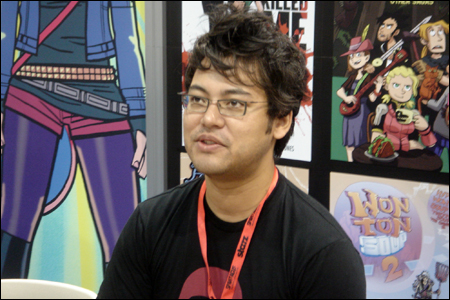 Bryan Lee O'Malley, the creator behind the extremely popular
Scott Pilgrim
series was at the Oni Press booth to sign autographs, generating a long line of eager fans. I've never read this title, but have heard crazy good things about it. The guy working the Oni table tried to get me to buy all six volumes, but I ended just getting the first two to give it a try. I'll tell you how it is.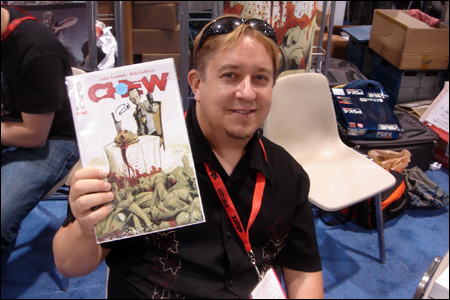 This is
John Layman
, writer behind the comic book
Chew
, which I've mentioned
here
before. The book's main character is federal agent Tony Chu -- an Asian guy -- who gets psychic impressions from the things he eats. I've read the first two issues, and it's one of the most original and weird comics I've ever read (in a good way). It's also quickly become one of the Image Comics' bestselling titles.
In interviews, John has said that Tony Chu's look is modeled after actor
Ken Leung
, who plays Miles on
Lost
. We got to talking, and he said that he's been approached by Hollywood types who are interested in adapting
Chew
for the big screen. The one thing that he insists, he says, is that Tony Chu has to be played by an Asian guy. I hope we get to see that one day. For now, I'm really enjoying the comic book.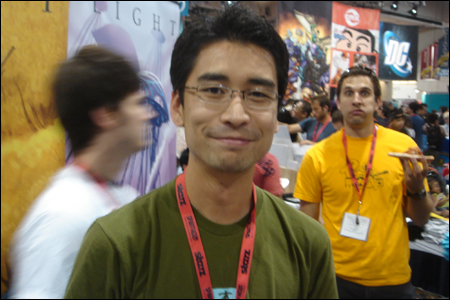 Kazu Kibuishi
is the creator and editor of the anthology
Flight
and the children's graphic novel
Amulet
. I hadn't picked either of these books up yet, but when I professed this to the people at the booth, they all freaked out and insisted that I had to read them. Random people hanging around the booth started chiming in. So I caved into peer pressure and bought volume ones of each book... and I'm really looking forward to digging in to them.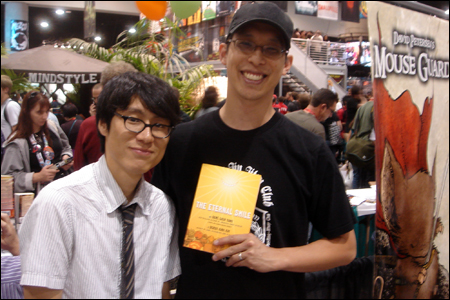 This is
Derek Kirk Kim
and
Gene Luen Yang
, the co-creators behind
The Eternal Smile
, and the authors behind two of my favorite books,
Same Difference
and
American Born Chinese
, respectively. As a huge fan of their work, I am extremely happy to tell you that they're both really cool guys.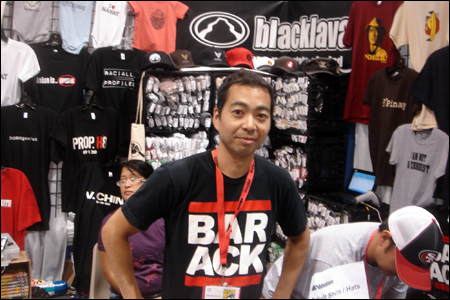 And here's Ryan Suda, holding it down as usual at the
Blacklava
booth. I actually have almost the exact same photo of him from
last year's
Comic-Con. Heck, he's even wearing the same BARACK shirt. Very cool to see the Comic-Con audience discovering and buying Blacklava's Asian American empowerment apparel.
Okay, this is getting long, and I'm only halfway through what I was planning for this post. And I'm still kind of recovering from the weekend. So I'll cut it short here and post the rest later. Be sure to check back tomorrow for part two of my 2009 Comic-Con recap.