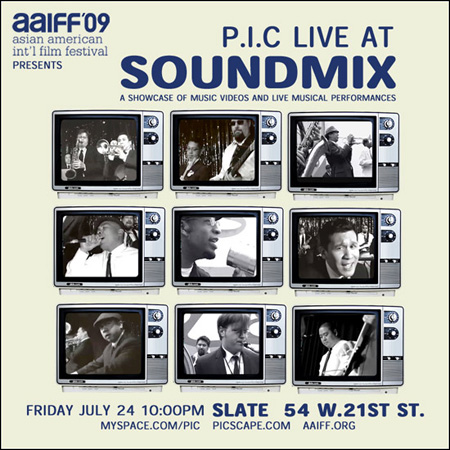 If you're in New York, and planning on the attending the
Asian American International Film Festival
, then make sure you party with AAIFF this weekend at
SoumdMIX
, a showcase of music videos and live performances from
Big Phony
,
P.I.C.
, and a guest DJ set by Ahmed Hashim. It's this Friday, July 24 at Slate. Here are some details:
Join us for the AAIFF SoundMiX on FRIDAY, JULY 24 where we showcase an eclectic range of music videos from up and coming artists. With live performances by Big Phony and P.I.C. and DJ set by Ahmed Hashim!

Slate
54 West 21st St.
New York, NY 10010

10:00 p.m. - 2:00 a.m. (Doors open at 9:00 p.m.)
Free for guests with same day festival ticket. Must present stub at the door.
$5 General admission for the entire night.
21+

Music videos being screened include:

YOU WILL REMEMBER
Lumaya
Dir. Yasmine Gomez
Trt. 4 min.

HUNT
OK|OK
Dir. Yohei Ito, Shingo Igata
Trt. 2:20 min.

RETURN OF THE B-GIRL
Masia One
Dir. Cazhmere
Trt. 3:31 min.

BAG OF HAMMERS
Thao With the Get Down Stay Down
Dir. Norman Foreman
Trt. 3:02 min.

WORDS THAT DEFINE
Big Phony
Dir. Chris Chan Lee
Trt. 5:00 min.

DANCE LIKE MICHAEL JACKSON
Far East Movement
Dir. Wong Fu Productions
Trt. 5:00 min.
Steven from P.I.C. gives me three reasons why you should come out this Friday: 1) This is P.I.C.'s last show of the summer. 2) They've got new songs. 3) He and his wife are expecing their second child in August, so you won't be seeing him for a while. Anyway, for more info about the event, go to the AAIFF website
here
.