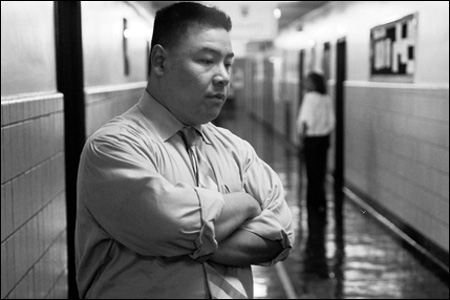 If you're in New York, and couldn't make it out to the
Asian American International Film Festival
, you still have a chance to check out some of the film highlights at AAIFF community screenings in Harlem, Manhattan Chinatown and Flushing, Queens. Here are the events and venues:
AAIFF COMMUNITY SCREENINGS, JULY 30 - AUGUST 1, 2009

Whatever It Takes, dir. Christopher Wong
USA / 97min / Documentary
The first year of the Bronx Center of Science and Mathematics is documented in this film. While the school's stated mission is to patch the cracks in New York's education system, it's clear that the odds are stacked against its success.

Maysles Cinema
343 Lennox Avenue and 127th St., Harlem
Thursday, July 30 @ 7:00 p.m.
$7 suggested admission

Li Tong, dir. Nian Liu
China / 74min / Narrative
A restless young girl loses her bus pass one day after school. Her meandering trip home is the thread of this poignant "day in the life" tale, which wends its way through the various homes, personae and urban landscapes of contemporary Beijing.

Followed by:
Karma Calling, dir. Sarba Das
USA / 90min / Narrative
The Raj family is definitely not comprised of stereotypical model minorities living the American Dream. On top of the family's troubled finances, the family hosts a recently widowed relative who is an endless source of comic disasters.

Followed by:
Shorts Program, Home Is Where the Heart Is
Immigration is more than a series of border crossings. Whether in New York, San Francisco, or Taiwan, the immigrants in these shorts must reconcile their places in the new world with their foundations in the old. Their lives, by choice and by force, plot a new course for the meaning of "home."

Featuring The Veiled Commodity, dir. Dickson Chow and Vinh Chung; A Green Mountain the Drawer, dir. Hwa Jun Lee; 20 30 40, dir. Mei-Yu Lee; Here to Stay, dir. ManSee Kong; Lower East Side: An Endangered Place, dir. MA Shumin.

Queens Library, Flushing Branch
41-17 Main St., Flushing, Queens
Saturday, August 1 @ 12:00 p.m.
Free admission
This is so cool. I really commend Asian CineVision for expanding its programming to bring its films to a broader community audience. And these are great films that deserve to be seen by as many people as possible. So if you missed out, and couldn't make it to the festival last weekend, you have a second chance. For more information about the screenings visit the AAIFF website
here
.