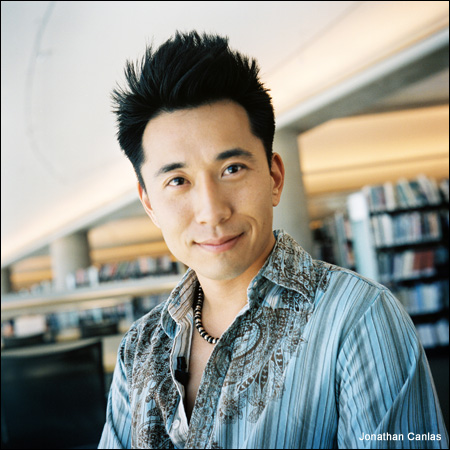 The indie comedy
White on Rice
is coming to a theater near you, starting September 11 in Los Angeles and Orange County. To celebrate, we'll be profiling the movie's cast, who answered a couple of questions. Meet James Kyson Lee, who plays Tim.
Describe your character in White on Rice.
Tim Kim is an aspiring guitarist/singer who wants to escape his corporate life to pursue his true passion: music. As Jimmy's friend and co-worker, Tim tries to help out Jimmy's lack of romantic life by introducing him to potential dates.
When Tim reconnects with his high school sweetheart Ramona, he unknowingly becomes Jimmy's biggest rival in a bizarre love-triangle.
What's your favorite behind-the-scenes moment?
My first day in Salt Lake City, we all went to a music store, and I bought my first acoustic guitar - an Ibanez. For the duration of the shoot, i slept with it, made love to it, carried it with me everywhere, and attempted to write incomplete songs in my hotel room & trailer.
Because my character was loosely based on a real person - Tim Koides, a very talented musician - I spent some time hanging with the real Tim, getting guitar lessons. Three days later, we were on stage together with a band playing his song, dressed up as Quaker Oats Man and Uncle Sam.
What was your last Halloween costume?
I was a Lucent Dossier - inspired by the carnivale-cirque group that performs at the Edison on Wednesday evenings.
What makes you laugh?
Awkward human interactions, odd facial expressions.
The Office
,
30 Rock
and
Flight of the Concords
.
What makes you angry?
Narrow mindedness, people who complain all the time, smelly bathrooms.