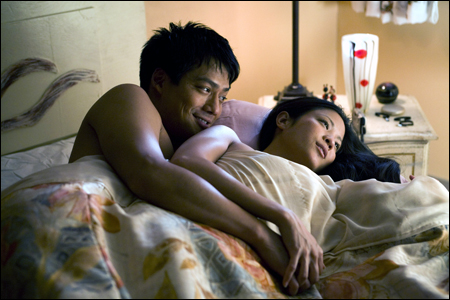 Here's something for you bold souls who might be interested in making a racy video for the internet... The people behind the indie sex comedy
The People I've Slept With
, directed by Quentin Lee and starring Karin Anna Cheung, are sponsoring a very unique contest:
"The Most Memorable Person I've Slept With" Video Contest
.
Basically, make a short two minute video with your phone, camera or webcam that answers the question:
Who's the most memorable person you've slept with?
Winning videos will be chosen by a panel of judges, on the basis creativity, originality, fun factor, sexy factor and quality.
Each of the top five most viewed videos will be included in the DVD release of
The People I've Slept With
and receive a "Virgins Do It Better" t-shirt.
One Grand Prize Winner, to be determined by the filmmakers, will win all the stuff above plus $500 dollars, and their video will be shown before a festival screening of
The People I've Slept With
. To find out how to enter, go
here
.
The People I've Slept With
is a sexy comedy about a promiscuous young woman who finds herself with an unplanned pregnancy and needs to figure out who the baby daddy is...
now
. The movie is set to premiere this fall on the film festival circuit. To learn more about the movie, visit website
here
.