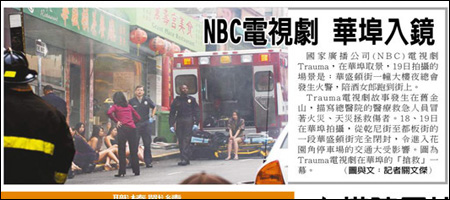 The new NBC drama
Trauma
has apparently been filming in San Francisco... including Chinatown. How do I know this? Our friend Jack sends along this little clipping from Chinese newspaper
World Journal
-- a shot of the set in Chinatown, featuring what looks like a bunch of bar girls hanging out on the curb. The Chinatown episode? Greeaaaaat. (Thanks, Jack.)
UPDATE: Some video of
Trauma
filming in Chinatown:
This one appears to be a fight between two Asian girls.
And here's one with a whole bunch of smoke. (Thanks, Jen.)
UPDATE: The following casting notice was posted for extras on
Trauma
:
Important: This is regarding a picture pick extra role for Trauma the NBC TV show. Up to 10 women will be selected from photos by the Director and be visible on camera in scenes with speaking actors, but this is still non-speaking extra work only. Photos received will be submitted to production asap.

We are seeking young looking Chinese women 18 years old - 20s to portray women that have been forced into prostitution, found trapped in Chinatown building. Women will have more of an innocent and unfortunate portrayal, wearing tube tops, or tank tops, short shorts or mini skirts, flip flops. etc., NOT scantily clad in lingerie!

Scenes shoot over 2 days Wed 8/19 & Mon 8/24 and this is a 2 Day commitment for continuity purposes. Shoots last up to 12 hours on average and tend to start early morning, 6AM or 7AM. However exact start time is unknown until evening before each shoot day. You must be available all day, BOTH days in order to submit for this role. NO exceptions. Non Union extra rate is $78.32 for 8hrs plus overtime at time and 1/2. Must have current US passport or valid Drivers License with either Social Security card or original birth certificate. Free parking is provided and so is a meal during the day.

If you are available for both 8/19 & 8/24 you can submit via Direct Cast Extras Roles or email the following info to projects@beaubonneaucasting.com ASAP:
* Name & Chinese Women in subject line
* Telephone number(s)
* Height, Weight and general clothing size
* Availability for 8/19 & 8/24
* 2 very recent but basic color digital photos, close up and full standing view

Submit ASAP only if you are available! Keep in mind we are looking for young faces; pictures of you with light make-up or clean faces are preferred over heavy make-up. Submissions will be forwarded to production upon receipt and you will be contacted by BBC staff by Monday or Tuesday at the latest if you are chosen. Thanks,

Beau Bonneau Casting
www.beaubonneaucasting.com
Funny, how they describe the extra parts as an "innocent and unfortunate" portrayal. I guess we'll see what goes down in Chinatown when the episode eventually airs.