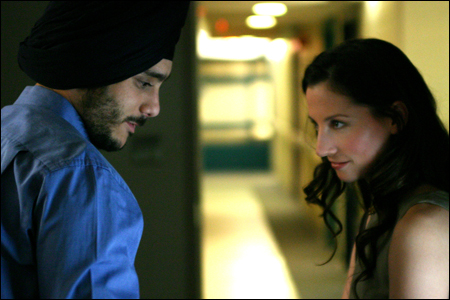 If you live in San Francisco, I just learned that Sarab S. Neelam's critically acclaimed, award-winning indie drama
Ocean of Pearls
opens today, August 21 at the Landmark Bridge Theatre. I actually haven't seen this film, but I've heard nothing but great things about it since its festival run. Here's the synopsis:
Amrit Singh is of two worlds, but belongs to neither. A turban-wearing Sikh, he has lived his life in North America out of sorts and out of place, cast adrift at an uneasy crossroads between East and West. But when he is offered a prestigious position as a transplant surgeon in a Detroit hospital, the young doctor sees it as an opportunity to start fresh. He struggles to be the man he believes he is and at the same time the person he wants to be. His ambitious pursuit of success, however eventually leads to tragedy and it is only in defining his singular identity that he finds peace.

The result is the moving, sincere and dramatic experience that is OCEAN OF PEARLS, the first film by director Sarab S. Neelam. Equal parts love story, medical drama, and journey to self-discovery, the film is a moving, sincere, hard look at faith and compromise. Starring Omid Abtahi of "24," the cast also includes Heather McComb ("Party of Five"), Ron Canada ("Boston Legal"), Navi Rawat ("Numb3rs"), Dennis Haskins ("Saved by the Bell") and Brenda Strong ("Desperate Housewives").
The film's been slowly creeping along on a city-by-city theatrical release from Lightning Pictures and Echo Lake. I'm looking forward to eventually checking it out. To learn more about the film, and to watch the trailer, visit the
Ocean of Pearls
website
here
.