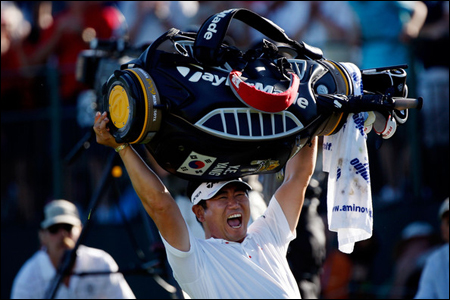 Pro golf shocker! Today, South Korean golfer Y.E. Yang, ranked number 110 in the world, took on number one Tiger Woods... and won. Yang stunned the golf world at Hazeltine National by shooting a two-under-par 70 in the final round to win the PGA Championship with a score of eight-under 280:
Y. E. Yang Shocks Woods to Win at P.G.A.
Woods finished three strokes back after a final-round 75, and Lee Westwood and Rory McIlroy tied for third at 285. More here:
Yang ensures major-less year for Tiger
. And here:
Yang's victory over Tiger is the greatest upset in golf history
.
In one of the biggest upsets in the sport's history, Yang, 37, became the first Asian player -- from Asia, that is -- to win one of golf's four major championships. He was also the first golfer to overtake Woods in a major championship in which Woods had the lead going into the final round.
Tiger might be the greatest player the sport has ever known. But today was all about Y.E. Yang: "You never know in life, this might be my last win as a golfer. But this is a great day. It's going to be a great foundation for me to continue playing on the PGA Tour. It means the world right now. It hasn't sunken in, but I do know the significance of it."