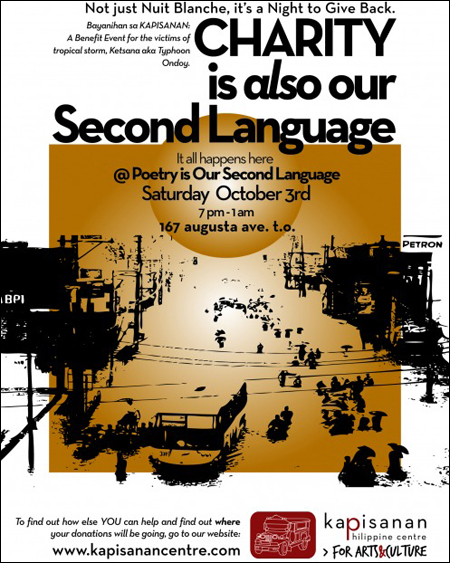 Toronto! This one's for you. This Saturday, October 3, the
Kapisnan Philippine Centre for Arts and Culture
will be lending a hand to the victims of tropical storm Ketsana. It's a pay-what-you-can event, where you can donate new or gently worn clothes/shoes and canned goods or even spare change. Some event details:
Poetry Is Our Second Language

All monetary donations will support the relief efforts of GlobalMedic.ca

Saturday, October 3, 2009
7:00pm - 1:00am

167 Augusta Avenue
Toronto, ON

In conjunction with Les Rues des Refuses "The renegade guide for off-program nuit blanche events" we invite you to experience a Poetry Slam/Jam like no other you've seen or heard. Word.

"If you want to know what we are
WE ARE REVOLUTION!" - Carlos Bulosan

Be inspired. (THANK YOU Len Cervantes!)

This event is open to all ages, but if you would like to partake in a drink, bring ID!

Proceeds will support relief efforts of GlobalMedic.ca for victims of Typhoon Ondoy/Kestana.
http://globalmedic.ca/missions/Philippines/typhoon_sep_2009/main.html

Salamat sa FOREX "We Love To Deliver"
416.335.8555 & 416.609.8912

We are also welcoming any used clothing items for the victims of the great flood. All sizes (children's too) of clothing and shoes will be accepted.
They're also accepting monetary donations through PayPal, checks or cash. All monetary donations will support the relief efforts of
GlobalMedic.ca
. For more information about Saturday night's event, or further relief efforts, visit the Kapisanan Philippine Centre's website
here
. Or visit the Facebook event page
here
.