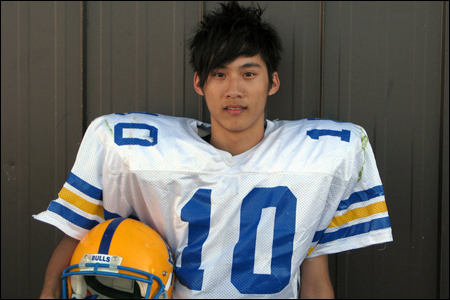 Heard this great story last week on NPR, as part of "Friday Night Lives," a special series they're running on high school football in big cities and small towns across the country. In the spotlight, the Burnt River Bulls from Unity, Oregon, an 8-man football team made up mostly of foreign exchange students:
Exchange Students Tackle Football, English In Oregon
.
They've managed to field the bare minimum of eight players, keeping the entire team busy and tired playing both offense and defense. Meanwhile, most of the players are still learning the basics of the game -- and English.
The Burnt River lineup includes Kan Bakai Uchkun Uulu, left guard from Kyrgyzstan; Szu-Yao Su, quarterback from Taiwan; Jovan Radakovic, left end from Serbia; Ju Hyoung Park, right end from South Korea; Cem Erdogdo, right guard from Germany; and Ban Du, center from China.
For these new kids, it's been a crash course in a sport they had never played, and facing facts, they're not very good. In their opening game against nearby Prairie City, officials stopped the game in the third quarter. The Bulls were down to five players, and trailed 50-6.
But every day, the team gets a little better than the day before. And they just added a ninth player, exchange student Tuan Chau from Vietnam.
At season's end, they're not going to win any trophies, but they did recently win their first game. They beat a team with 19 players -- 14 of whom were exchange students. The final score was 24-0.
Anyway, it's a great story. Check it out
here
. Does anyone else think this story would make a really fun football movie? A ragtag group of foreign exchange students overcome their differences (and a serious language barrier) to play the all-American sport of football. Come on. It's a good idea.