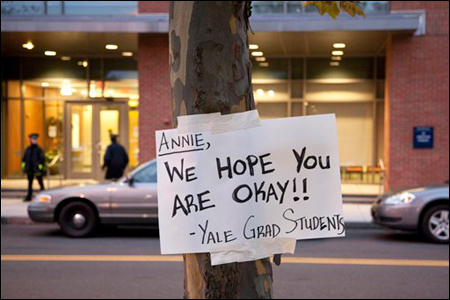 Terrible, disturbing news out of New Haven... Police say they've found what they believe is the body of missing Yale graduate student Annie Le hidden inside the wall of the university laboratory building where she was last seen five days before:
Police Seeking Missing Yale Student Find Body
.
While the remains have yet to be officially identified, authorities are assuming they belong to 24-year-old pharmacology doctoral student Annie Le. They are now classifying the case as a homicide investigation:
FEMALE BODY FOUND AT 10 AMISTAD ST.; POLICE 'ASSUME' IT IS ANNIE LE MED '13
.
It's a family's worst nightmare. Ms. Le, the daughter of Vietnamese immigrants, was supposed to be married in New York this weekend to Jonathan Widawsky, a graduate student at Columbia University. By Friday, family members had canceled the wedding.
Police now have an ongoing homicide case, but thus far have declined to supply any more details about what they have. Yale is offering a $10,000 reward for information on the case. I feel sick. More here:
Police: Found body is likely missing Yale student
.