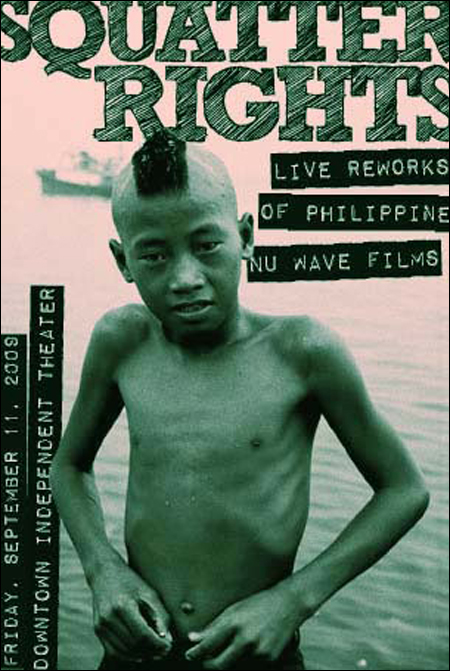 Joel sends me some info about a really cool "live audio + visual exploration" screening event happening this Friday, September 11 at the
Downtown Independent Theater
in Los Angeles. Explore Philippine independent cinema, sonically reworked by DJs and musicians:
SQUATTER RIGHTS: LIVE REWORKS of Philippine Nu Wave Films

Selected films by acclaimed vanguard of new Philippine Independent Cinema sonically reworked by Los Angeles based DJ's and Musicians.
FRIDAY, SEPTEMBER 11, 2009

Featuring selected films by KHAVN, RAYA MARTIN, JOHN TORRES, DADA DOCOT (Philippines)
Accompanied by THE MILES APPROACH, RANI D, RED KEY EXPERIMENT (Los Angeles)

doors at 8:30pm, screens at 9pm

Rooftop Reception post-screening.
________________________

FEATURED FILMS:

PERFORMING NATURALNESS (2008) 3 min
A Filipina living in Japan secretly confronts Japanese immigration police
at a Shinagawa train station armed only with a concept and a roll of 8mm film.

Director, Dada Docot
Visual artist and film maker emerges into the international scene
with a deeply personal and subtly defiant style.
______

TRACK PROJECTIONS (2006) 4 min
As a video wants to be a film, a filmmaker
travels across the world in search of another filmmaker.

Director, Raya Martin
Fresh from two features shown at the 2009 Cannes Film Festival
and inclusion of his latest feature Independencia at the New York Film Festival.

*accompanied by Rani de Leon
______

ANDREA'T (2008) 5 min
A visual intermission containing distance, face, skin,
and the pursuit of the familiar far from where the beloved sits.

Director, John Torres
Award winning and a regular of the international film festival circuit,
Torres makes idiosynchratic films that leave indelible impressions on the viewer.

*accompanied by Rani de Leon
______

SQUATTERPUNK (2007) 79 min
A visual explosion of a day in the life of squatter kids
living in the urban margins of Philippines.

Director, Khavn
Musician and filmmaker, he is one of the true renegades
of the Philippine Independent Film movement.

*accompanied by The Miles Approach, Red Key Experiment
________________________

The Miles Approach
http://www.myspace.com/themilesapproach
Inventive Los Angeles Indie trio featuring Louie Mendoza, Vivian Chow and Drew de Ramos.

Rani de Leon
http://www.myspace.com/djranid
soulful global atmospherics for the discerned dancefloor.

Red Key Experiment
http://www.myspace.com/redkeyexperiment
Drew de Ramos and Joel Quizon. Sound collage on four turntables and eclectic vinyl selections.
Sounds like it's going to be a really unique event. Live and direct from the Philippines to Los Angeles, curated by renowned Philippines filmmaker Ruelo Lozendo and presented by Maya Santos and Joel Quizon, with support from
Visual Communications
.