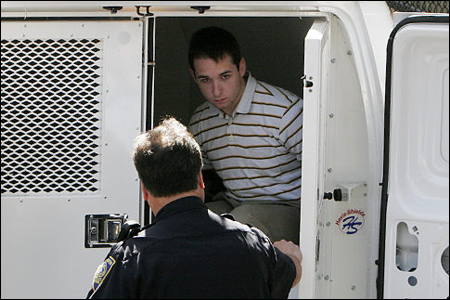 Lab technician Raymond Clark III has been arrested in the murder of Annie Le, the Yale graduate student whose body was hidden in the wall of a university building after she was strangled:
Lab Technician Arrested in Death of Yale Student
. More here:
Lab tech Raymond Clark under arrest in the murder of Yale student Annie Le
.
According to police, Clark was taken into custody early this morning at a Super 8 motel in Cromwell, Connecticut, after DNA evidence linked him to Ms. Le's killing. He did not resist. He was charged with murder and held on a $3 million bond. There are no other suspects.
New Haven Police Chief James Lewis says that Le was not sexually assaulted, and called her strangulation death a case of "workplace violence" -- not a "romantic one" -- but would not elaborate on what triggered the attack. More here:
Cops Arrest Lab Tech In Annie Le Murder
.
Clark worked in the same laboratory building as Le, but little else is known about whether there was any connection or relationship between them. There was no indication that she had complained of being stalked or harassed by Clark or anyone else in recent weeks. What the hell happened?
The police's insistence that this was a "workplace crime" seems to indicate that Clark just snapped or something. Some news stories are noting that Clark had a previous
run-in with police
in high school when his then-girlfriend called the cops on him, but declined to press charges.
Then there's the pesky fact that Clark, who is white, was once a member of the
Asian Awareness Club
in high school, which a lot of news stories keep bringing up. Granted, they don't have much to go on, since they're probably just digging this info out of his high school yearbook. Still, there's that nagging suspicion that this could be related to some kind of
Asian fetish
.
Whatever the case, we'll no doubt hear more details about the crime, and the possible motive, in the days to come. It's crazy how this case has captivated a national audience. Right now, I'm just glad they've got the guy behind bars. My thoughts go out to Annie Le's family.