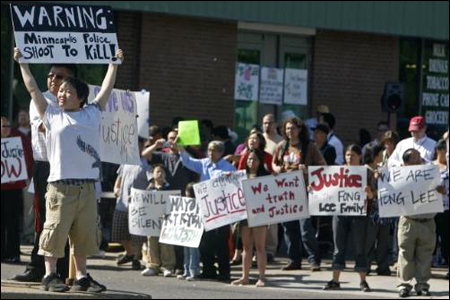 Got word from my man Bao Phi about
Up In Arms: A Night of Hip Hop and Spoken Word to Honor Fong Lee and End Police Brutality
. The event, happening this Saturday, October 3 at Macalester College in St. Paul, is a night of art and activism to honor Fong Lee, who was
shot to death by a Minneapolis police officer
in July 2006. For details about the event, and the case, read on:
Up In Arms: A Night of Hip Hop and Spoken Word to Honor Fong Lee and End Police Brutality

Date: Saturday, October 3, 2009
Show starts 8:00pm (doors open 7:30pm)

Location: Macalester College
Kagin Commons
1600 Grand Avenue, St. Paul, MN 55105
http://www.macalester.edu/about/mapbynumber.html

Suggested Donation: $5-$10 (all proceeds will to go to the family of Fong Lee to assist with attorney's fees)

Up In Arms: A Night of Hip Hop and Spoken Word to Honor Fong Lee and End Police Brutality seeks to raise awareness and support of Fong Lee's case while also uniting and activating communities around the issue of police brutality.

In July 2006, un-armed Fong Lee was killed by a Minneapolis police officer in front of a north Minneapolis elementary school. Last May, an all-white federal jury exonerated officer Jason Anderson of using "excessive force" on the teenager who was shot eight times in the back. Allegations that a gun was planted near Lee's body were ruled irrelevant to the case. (For more information about the trial http://www.hmongtoday.com/page11504436.aspx) The Lee family's quest for truth does not end with the ruling given in May, and the family has continued the long path towards legal justice.

The evening will be emceed by Tou Ger Xiong and Amy Hang. DJ Nak will be on the one's and two's with performances by Magnetic North (from New York City), Nomi of Power Struggle (from the Bay Area), Michelle Myers of Yellow Rage (from Philadelphia), Maria Isa, Blackbird Elements, Guante, Rodrigo Sanchez-Chavarria, e.g. Bailey, Tou Saiko Lee with PosNoSys, True Mutiny, Shá Cage, Kevin Xiong with Pada Lor, Tish Jones, MaiPaCher, Logan Moua, Bobby Wilson, Poetic Assassins, Hilltribe, and special guests.

This event is sponsored by: Speak!, Lealtad-Suzuki Center, Asian Student Alliance, Ua Ke, DJ Club, History Department, Coalition for Community Relations, The Loft Literary Center, Minnesota Immigrant Freedom Network, Shades of Yellow, Take Action Minnesota, Communities United Against Police Brutality, and Minnesota Poor People's Economic Human Rights Campaign.

For more information please visit Coalition for Community Relations on Facebook or contact Tou Ger Xiong @ 651-738-0141or Jose Luís @ 612-986-0832.
This is not only a showcase of some really awesome Asian American artists, it's a community standing up and speaking out about an issue they cannot stay silent about. According to Bao, it's about "Asian Americans standing up for fellow Asian Americans, while also building alliances across different communities that have also suffered from police brutality."
For more information about the event, check out Bao Phi's latest column for the
Star-Tribune
, which delves not only into the Fong Lee case, but also the broader, very real, oppressive fear of violence faced by communities of color at the hands of abusive law enforcement:
Fong Lee, and Violence
.