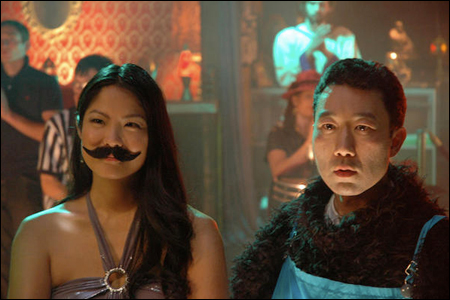 After a successful, buzzworthy festival run, the indie comedy
White on Rice
, directed by David Boyle, opens theatrically today in Los Angeles and Orange County (with more cities to follow). It's a hilarious, weird little movie with a great cast that really deserves to find an audience. If you live in Southern California, why not go check it out? The new Tyler Perry movie can wait.
Hiroshi Watanabe stars as Jimmy, who loves dinosaurs and sleeps on the top bunk. Unfortunately, Jimmy is 40, and shares the bunk bed with Bob, his 10-year-old nephew. Freshly divorced, Jimmy has moved in with his sister Aiko and her family while boldly searching for a new wife. But he needs to get out of the house soon, before his brother-in-law Tak kills him.
Although Jimmy may painfully lack social grace, he's convinced the best years of his life are just beginning. His plan seems like it's all falling into place when Tak's beautiful niece Ramona moves in. But once Jimmy sets his sights on her, he finds he has competition from his handsome co-worker Tim, and everything seems to go wrong from there.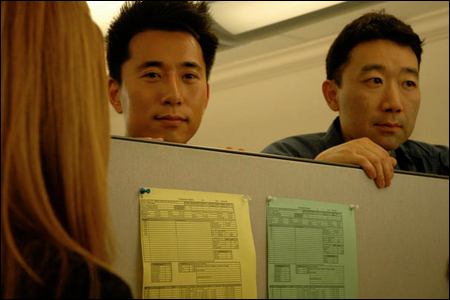 As I've said before, Hiroshi Watanabe is brilliant as one of the most annoying and unlikeable heroes you'll ever find yourself rooting for. Early on in the film, Jimmy laments, "My brother-in-law thinks I'm retarded." And at some point, considering the ridiculous way he behaves, I began side the brother-in-law. Yet somehow, Jimmy still managed to hold on to my empathy.
The cast is rounded out with some wonderful familiar faces like James Kyson Lee, Lynn Chen and Joy Osmanski (the cutest girl you'll ever see in a banana suit), as well as Japanese actors Mio Takada and Nae. You'll dig the deadpan, fresh-faced performance from newcomer Justin Kwong, who plays Bob.
Here's an article on the movie, which discusses, among other things, the issue of a white director making an Asian American movie:
Forty-year-old virgin? Meet Asian America
. Also check out Disgrasian's "Babewatch" feature on
The Ladies of White On Rice
. And here's a
Los Angeles Times
profile on James Kyson Lee:
James Kyson Lee is mortal again and loving it
.
So, are you going to go out and see it? To learn more about the film, and find out where/when it's playing near you, visit the
White on Rice
website
here
.