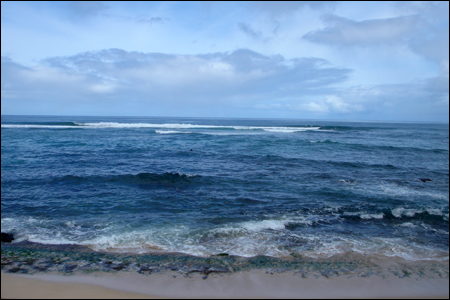 I have dreams about this view. Thought I'd share a little bit about my little excursion to the Aloha State last week for the
Hawaii International Film Festival
. I know, be jealous. It was fun. I got to catch a few films, hang with friends, enjoy the sunshine, and take a much-needed break from the regular mainland grind.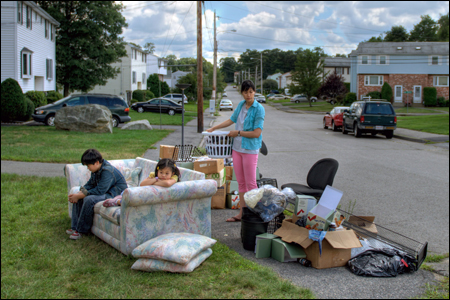 First of all, here are the festival's award winners, including yet another trophy for one of my favorites,
Children of Invention
, directed by our friend Tze Chun, who walked away with the Puma Emerging Filmmaker Award. Haven't seen it yet? You can buy it on DVD
here
. Here's the rundown of the awards and recipients:
-HALEKULANI GOLDEN ORCHID AWARD for Narrative Feature was awarded to EMPIRE OF SILVER, directed by Yao Shuhua.

-Also the HALEKULANI GOLDEN ORCHID AWARD for Documentary feature was presented to PETITION, directed by Zhao Liang. Feature and documentary feature winners were chosen for best expressing artistic and technical excellence and for promoting cross-cultural understanding.

-NETPAC AWARD was awarded to CASTAWAY ON THE MOON, directed by Hey-jun Lee, which was a participant in HIFF's Halekulani Golden Orchid Award showcase. The prestigious NETPAC AWARD is given at select international film festivals to promote Asian cinema by spotlighting exceptional works and discovering new talent.

-PUMA EMERGING FILMMAKER AWARD was presented by PUMA to CHILDREN OF INVENTION, directed by Tze Chun.

-VIDEO-ON-DEMAND VIEWERS CHOICE AWARD POWERED BY OCEANIC TIME WARNER CABLE and presented by Central Pacific Bank went to AJUMMA! ARE YOU KRAZY?, directed by Brent Anbe.
This year's film jurors at HIFF represent various careers and talent within the film industry. Jurors for the documentary competition were: Karin Chien, producer; Martin Wong, editor,
Giant Robot
magazine; and Leanne Ferrer, programs manager, Pacific Islanders in Communications.
Jurors for the narrative competition were: Toa Fraser, filmmaker; Peter Britos, Chair, Department of Communications and Multimedia Program, Hawaii Pacific University; and
Lost
actor Daniel Dae Kim.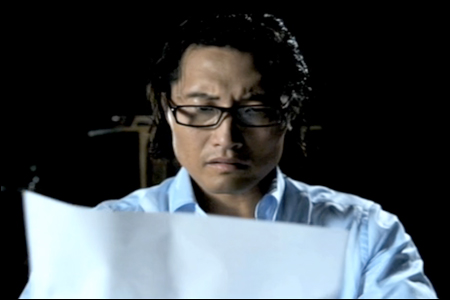 Speaking of DDK, I had the chance to hang out and grab a drink with Daniel, who had actually just returned from New York after shooting
The Adjust Bureau
with Matt Damon. I forgot to snap a photo of our meetup, so here's a screencap of Daniel in the HIFF
trailer
, which played in front of every screening at the festival.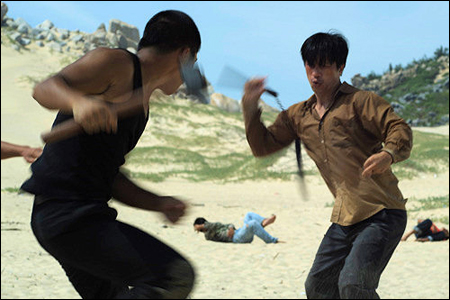 Here's the thing about HIFF. Year to year, it has one of the best programs of any film festival out there, a stacked schedule of movies for everyone. But dude,
it's Hawaii
. So you've got to balance sitting in a darkened theater watching cool movies with the overwhelming urge to run out of there and hit the beach. Here's a brief rundown of some of the films I did manage to catch...
The Legend Is Alive
, directed by Luu Huynh Luu. It stars Dustin Nguyen, who I'll watch in pretty much anything, playing a mentally challenged young man who happens to excel in asskicking, and must save a young woman from a human trafficking gang. As the festival catalog described it:
"What follows for the next hour is Dustin Nguyen breaking every dirtbag face, back and flower pot that stands in the way of saving his one and only friend in the world."
That's really what got me into the theater. Plus, the movie features a loving tribute to Bruce Lee. Unfortunately, that wasn't enough to make
The Legend Is Alive
very watchable. It's a shame -- I really wanted to like it, and Dustin's a cool guy, but the movie just has way too many problems.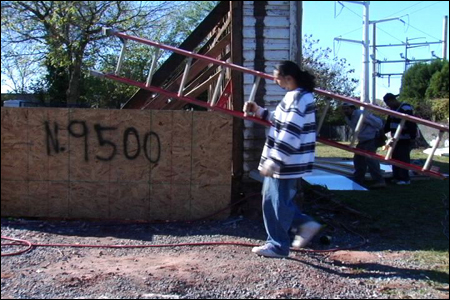 9500 Liberty
, directed by Annabel Park and Eric Byler. I already
mentioned
this excellent documentary about the immigration debate the other day, but I can't stress enough how important and timely it is. It's just starting its festival run, so if you get the chance to watch it,
seek it out
.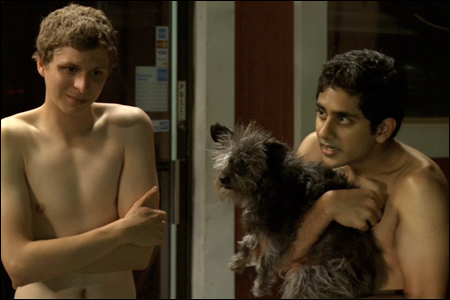 Youth in Revolt
, directed by Miguel Arteta. I went in to see this fun little comedy, starring Michael Cera, not really thinking there'd be an APA angle to work into this post. But lo and behold, young
Adhir Kalyan
pops up in the movie as Nick Twisp's sidekick of sorts, and while his part is brief, it's pretty funny. So there you go.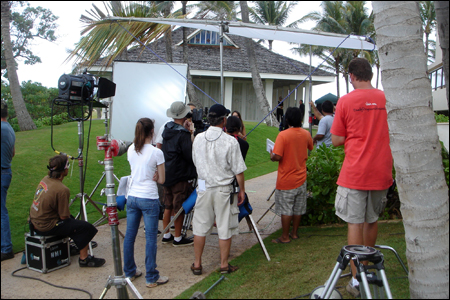 Hey, what's this? A movie set? Are they filming
Lost
?! Nope. I had the opportunity to drive out to the North Shore and check out the set of Michael Kang's latest indie film,
Knots
, which happened to be shooting at the Turtle Bay resort. It's about a local mom and her three daughters who own a wedding planning business.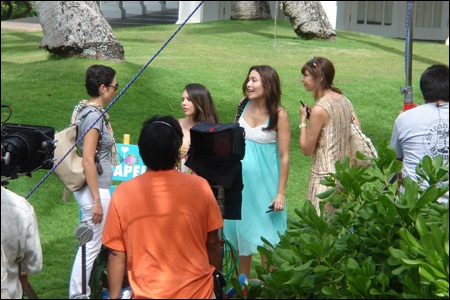 It was apparently a whirlwind, 10-day shoot, but Mike told me that while the pace was kind of crazy, things were going pretty smoothly. Here are the film's stars, who were all very nice. I watched them shoot this scene like ten times.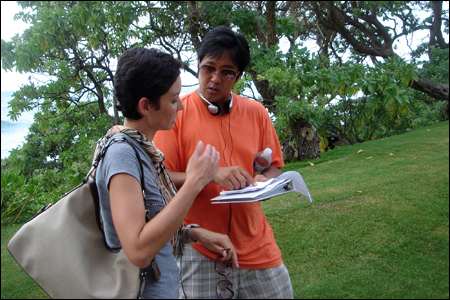 Here's Mike doing director stuff and going over the scene with the movie's star/producer/writer
Kimberly-Rose Wolter
.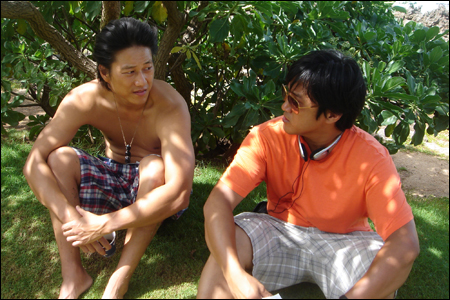 And here's Mike chillin' for a moment with star
Sung Kang
, who showed up on set with no shirt on. Barefoot too. (This is Hawaii, after all.) He looked like he was having a pretty good time on this shoot. Looking forward to seeing the movie.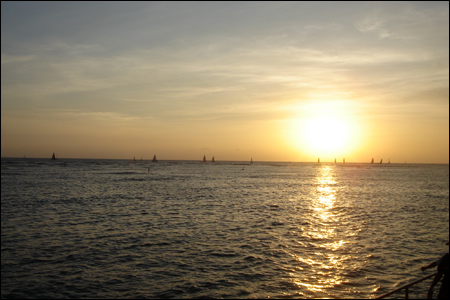 All right, that's enough Hawaii talk. If you're a film lover, and planning a trip to Hawaii, I would highly recommend timing your vacation to coincide with the Hawaii International Film Festival. Many thanks to the staff at HIFF, particularly my man Anderson Le, for showing this blogger a good time. I shall return.