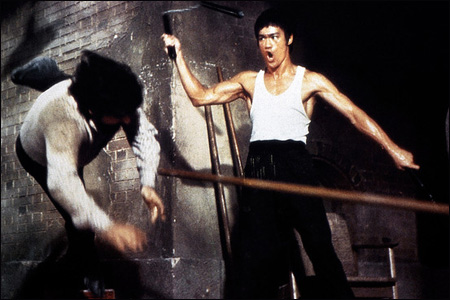 This is an interesting
Wall Street Journal
article on recent increased efforts by Bruce Lee's estate -- led by his daughter Shannon Lee -- to raise the profile, market and license the late martial arts star's image into a lucrative global brand:
Battling to Make Bruce Lee a Lucrative Brand
.
Last year, Ms. Lee bought back the rights to his image from General Electric Co.'s Universal Studios, which had held them since the late 1980s. She has since formed Bruce Lee Enterprises, a licensing company, and LeeWay Media Group, a production company, and re-launched
BruceLee.com
. From the
press release
:
BruceLee.com will be the beacon of all things Bruce Lee on the Internet," said Shannon Lee. "The site will include everything from facts about Bruce Lee to digital content to merchandise. I'll also be writing a blog. My father's fans have been asking for a place to find information and communicate with each other. This site will be a meeting place for our community."

LeeWay Media Group, the television and film production company, is actively coordinating a slate of film and television productions. Projects in development include a Chinese language biopic directed by noted Hong Kong director Andrew Lau, an animation project with Waddell Media and Ireland-based Flickerpix, a CG action film, and a Broadway musical from veterans David Henry Hwang (M Butterfly), Stuart Oken (Lion King), Director Bartlett Sher (South Pacific), and David Yazbek (The Full Monty).

Recently completed projects include a 50-part television biography of Bruce Lee that aired in China on CCTV and How Bruce Lee Changed the World, which aired on the History Channel.

Bruce Lee Enterprises (BLE), the licensing company, has been focused on a slate of merchandising and advertising deals that include Pepsi Cola, Nokia, Lucky Brand Jeans and Charter Communications. "The ethos of Bruce Lee - action, power, grace and style - provides a broad base appeal that we are just beginning to realize," says Alex Stephens, VP of Licensing at BLE. "Bruce smashed racial, gender and generational barriers during his lifetime and our partners understand that his image enables them to market products to a broad and attractive demographic.
You know I'm a huge Bruce Lee fan. Call it blatant commercialism, but I'll admit it, I'm a sucker for Bruce Lee stuff. I own like ten different Bruce t-shirts, both bootleg and official. Put some kind of cool Bruce Lee thing in front of me, and I'll probably buy it. He's just that kind of larger-than-life icon. But is there such a thing as taking the merchandising too far? I suppose you'll know when you see it.