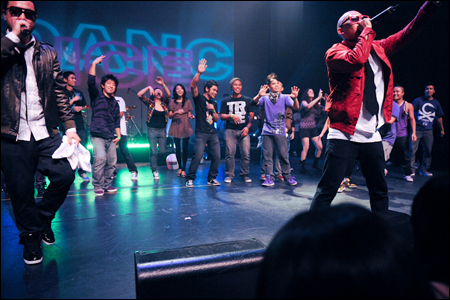 Calling all dancers!
Far East Movement
is looking for kickass dance crews around the United States to dance with them onstage while they perform their hit single "Girls On The Dance Floor" on the
Party Rock Tour
with with LMFAO, Paradiso Girls, Shwayze and Space Cowboy.
America's Best Dance Crew
season three champs Quest Crew will be teaming up with FM for the Los Angeles show at the Hollywood Palladium on November 7th. But they'd love for other crews to rock with them when they come to your city. Here's what they're looking for:
3-6 members in a crew (2 girls and 2 guys in a crew are preferablee - but exceptions can be made if yall are the truth!)
- Fresh/Flashy Clothing
- Freestyle dance skills and a routine to "Girls On The Dance Floor"
If they're performing a track called "Girls On The Dance Floor," I suppose it makes a lot of sense to have some actual girls dancing up there. If you think you've got what it takes, submit the the following info to info@fareastmovement.com:
Email Subject: "Dance Crew Submission for: Date, City, State"
- Photo of the crew
- Link to crew's website or myspace
- YouTube link of a dance routine or routine to "Girls On the Dance Floor'
- List of members of the crew - name and gender
For a better idea of what the guys are looking for, check out this awesome "Girls" routine from
America's Best Dance Crew
. If you're serious about this, be sure to make your crew's submission
5 days
before the show you'd like to dance in. Here's a list of the tour cities:
PARTY ROCK TOUR CITIES/DATES:

11/05/09 Reno, NV @ Pearl at Grand Sierra
11/06/09 Las Vegas, NV @ House of Blues
11/07/09 Los Angeles, CA @ Hollywood Palladium - QUEST CREW
11/09/09 Portland, OR @ Hawthorne Theatre
11/10/09 Vancouver, Canada @ Gossip
11/12/09 Seattle, WA @ Showbox Sodo
11/14/09 Boise, ID @ Knitting Factory
11/17/09 Englewood, CO @ Gothic Theatre
11/18/09 Lincoln, NE @ Bourbon Theatre
11/19/09 Lawrence, KS @ Granada Theater
11/20/09 St. Louis, MO @ The Pageant
11/21/09 Party Rock Tour @ The Rave
11/22/09 Chicago, IL @ Congress Theatre
11/24/09 Des Moines, IA @ People's Court
11/27/09 Pontiac, MI @ Clutch Cargos
11/28/09 Cleveland, OH @ House of Blues
11/29/09 Pittsburgh, PA @ Diesel
11/30/09 State College, PA @ The Cell Block
12/01/09 Philadelphia, PA @ Theatre of the Living Arts
12/03/09 New Haven, CT @ Toad's Place
12/04/09 New York, NY @ Irving Plaza
12/06/09 Farmingdale, NY @ Crazy Donkey
12/08/09 Richmond, VA @ The National
12/09/09 Norfolk, VA @ The Norva
12/10/09 Charlotte, NC @ The Fillmore
12/11/09 Myrtle Beach, SC @ House of Blues
12/14/09 Orlando, FL @ Firestone
12/17/09 Houston, TX @ House of Blues
12/18/09 Dallas, TX @ House of Blues
12/19/09 San Antonio, TX @ The White Rabbit
12/20/09 McAllen, TX @ Las Palmas Event Center
So get your crews together, get the video camera, and dance your ass off. You might just get to perform onstage along with Far East Movement. For more information, go to the FM website here
LOOKING FOR DANCE CREWS!
And for more information about the Party Rock Tour, go
here
.