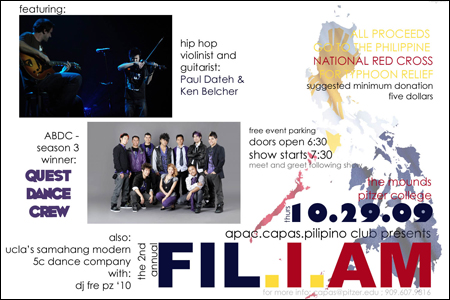 Check it out... if you're anywhere near around Pitzer College (named one of the
Best Colleges for AAPI Students
) this Thursday, the Center for Asian Pacific American Students (CAPAS), the Pilipino Club and the Asian Pacific American Coalition have organized a benefit show for typhoon relief in the Philippines, featuring the Quest Crew, Paul Dateh and others. Here are some details
"FIL-I-AM: Benefit Showcase" for Typhoon Relief

Thursday, October 29, 2009
7:30 PM
Pellisier Mall (Mounds) Pitzer College, Claremont, CA

Live performances by:
Quest Crew
Paul Dateh
Filipino Warrior Arts Exhibition by Legacy Marital Arts Studio
UCLA Samahang Modern Dance
Claremont College 5C Dance Team

In response to the tragedy Typhoons Ondoy and Pepeng have brought to the Philippines, the Center for Asian Pacific American Students (CAPAS), the Pilipino Club and the Asian Pacific American Coalition invites the community to its "Fil-I-Am" benefit showcase on Thursday, October 29, 2009 at 7:30pm at Pitzer College. The event is open to the community with a suggested donation of $5-10. This is an outdoor, alcohol free event. Parking is free.
Affected areas in the Philippines are still recovering from Typhoon Ondoy and Super Typhoon Pepeng, which brought the most devastating floods in the last 40 years. In one week, the typhoons caused over 750 deaths, displaced hundreds of thousands of people, and resulted in $7 million in damages. This is just one way people are trying to help. For more information, visit the Facebook event page
here
.