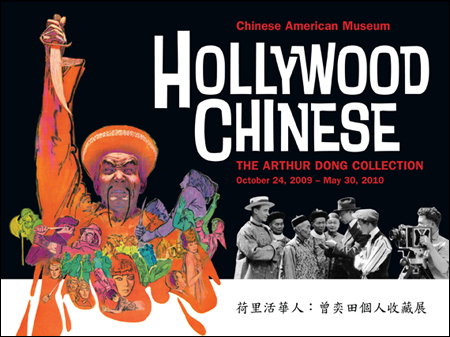 If you're in Los Angeles, you've got to check out this awesome exhibition currently running at the
Chinese American Museum
. "Hollywood Chinese: The Arthur Dong Collection" is an exhibition of movie memorabilia collected by director Arthur Dong during the ten-year research for his documentary
Hollywood Chinese
.
From the filmmaker's archive of over 1,000 items, a selection of posters, lobby cards, stills, scripts, press material, and other artifacts dating from 1916 to present-day offer vivid graphic examples of how the Chinese have been imagined in the movies during the last century.
If you're a fan of film history, and race/representation in the media, I highly recommend watching
Hollywood Chinese
. It's a great film that brings together some really remarkable footage from across Hollywood's history, as well as interviews with the actors, directors and writers who shaped these images.
For more, check out this discussion on
Hollyood Chinese
from WGBH:
American Masters: Hollywood Chinese
. The exhibition is running now through May 30, 2010. To learn more, visit the Chinese American Museum website
here
. To learn more about documentary, and to buy the DVD, go to the
Hollywood Chinese
website
here
.