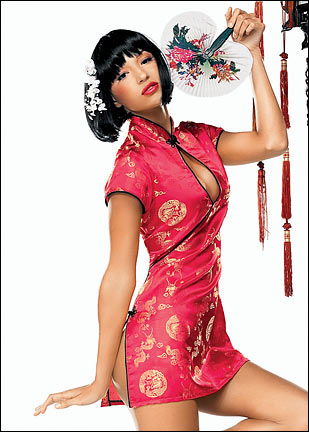 As you know, there are many trashy and exploitative Asian-themed costumes out there. It's a tradition I dread every year. Here's yet another one:
Shanghai Girl Costume
. Perfect for anyone who wants to do the sexy, seductive Asian thing for Halloween, but lack that, um, Asian-ness:
Explore the wonders of the Orient in a seductive Asian-inspired mini. Includes floral hairpiece and fan. Polyester/spandex. Imported.
Imported from where? Surely not Shanghai. And yes, I understand that it is from Frederick's of Hollywood, which means it's actually supposed to be extra trashy. So ladies, you can be a sexy cop, a foxy flapper... or a Shanghai Girl. It's also available in
Shanghai Girl Plus
, so nobody feels left out of the Oriental exploitation. Hooray. (Thanks, Cathy.)
Oh, and to see many more ridiculously inappropriate Halloween costumes (get your own KKK robe!), go here:
Politically Incorrect Halloween Costumes
.