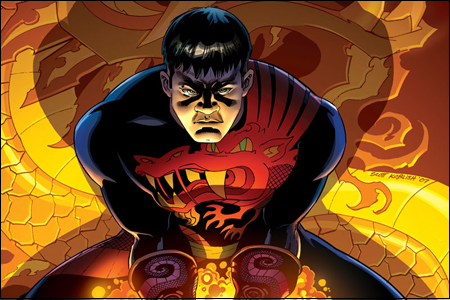 Racebending.com
, one of the leading online voices that has been speaking out against the
whitewashed casting
of the live-action
The Last Airbender
movie, are now speaking out against recent casting of
The Weapon
:
Protest the "whitewashing" of "The Weapon."
It was recently announced that Davie Henrie, the very Caucasian star of the Disney Channel series
The Wizards of Waverly Place
,
will star in the adaptation of the comic book The Weapon
as Chinese American martial arts enthusiast and inventor Tommy Zhou.
True to form, this is pretty much blatant disregard of the original comic book character's ethnicity, especially since the Asian American identity of Tommy Zhou is unambiguous, undeniable, and intrinsically part of his story. Meanwhile, another Asian American actor gets cheated out of a starring role.
Sure, business as usual in Hollywood. Here's the letter Racebending sent to Revolution Studios regarding casting of
The Weapon
:
Platinum Studios, Inc.
11400 West Olympic Blvd, 14th Floor
Los Angeles, CA 90064
(310) 807-8100

September 21st, 2009

Dear Mr. Greenberg;

We are a coalition of fans dedicated to monitoring culturally insensitive casting in Hollywood. I am writing to protest the culturally insensitive casting of your film adaptation, "The Weapon." It is our hope that Platinum Studios reconsiders the casting of David Henrie to portray Tommy Zhou.

We would gladly publicize and support a film that both accurately depicts the character of Tommy Zhou and brings new minority talent to the forefront. If your studio is interested in making a film with Mr. Henrie, Platinum Studios can still do so—without using discriminatory casting practices that will draw public scrutiny. Cast him in a role that does not require him to participate in the modern-day equivalent of "yellowface."

But if the intent is to create a live-action film adaptation of The Weapon, we are respectfully asking that your studio please have the decency to cast an Asian American actor to portray Tommy Zhou's story. We are prepared to protest the casting of this film alongside other advocacy groups if your studio decides to move forward with this casting decision, though we hope you will reconsider.

One of Platinum Studios's core value is social responsibility, yet your film has taken an Asian American lead character and cast him as white. Denying actors of color the role of a lead character of color in this film - even going so far as to downplay the significance and change the ethnicity of a clearly Asian American character - is not socially responsible. You are sending the message that a white actors are more entitled and qualified to portray an Asian American hero, than Asian American actors are.

Employing this kind of discriminatory casting will negatively impact your studio's reputation, when The Weapon should be a film that popularizes Platinum Studios and brings new fans to your properties. Casting an Asian American to depict Tommy Zhou is more conducive to The Weapon's long-term economic prospects and legacy, as films with culturally insensitive casting are falling out of public favor. The casting of actor David Henrie to play Asian American character Tommy Zhou is discriminatory against Asian American actors, and offensive to viewers of all ethnicities.

I look forward to continuing a dialogue with you on this matter and am confident that we can find common ground, especially given Platinum Studios's dedication to social responsibility.

Sincerely,

Marissa Lee
Coordinator
mlee@racebending.com
www.racebending.com
The Media Action Network for Asian Americans (MANAA) has also
sent their own letter
. If you feel strongly about this issue, you can also send a letter to Platinum Studios Executive Producer Randy Greenberg at the address above, as well as to the following email addresses:
Randy.Greenberg@platinumstudios.com
info@platinumstudios.com
investors@platinumstudios.com
You can use Racebending's letter as a sample. They encourage you to please be polite, but assertive and firm in your convictions. For more about this issue, visit Racebending
here
and MANAA's blog
here
.