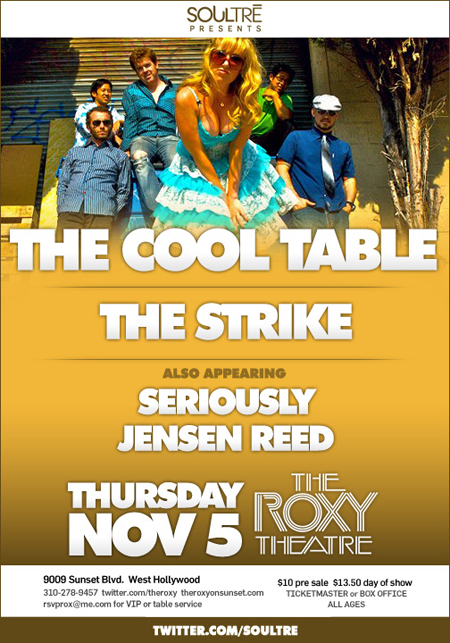 Our man Woody informs me that one of our favorite bands
Seriously
will be opening for
The Cool Table
this Thursday, November 5 at the famed Roxy Theatre in Hollywood. This is going to be a really fun show. Here's the
event info
:
SERIOUSLY @ the Roxy

Thursday, November 5, 2009 at 9:30pm
THE ROXY THEATRE
9009 West Sunet Blvd.
Los Angeles, CA

YES, we are performing at the Roxy Theatre in Hollywood on Thursday the November 5th!!! We will be opening for an amazing band called The Cool Table where our producer and the musical genius, WOODY PAK, will be killin' it on the bass. For more information on them, check out their website at...

http://www.thecooltableband.com

We need to bring in about 100 adoring and loving fans, so please come out and let's make musical history together! We will be performing a lot of our new songs and giving you a taste of what's to come.

***Contact our mananger Spenser @ snoh@chaostheorymusic.net to order presale tickets. Presale tickets will be $10.
Get your presale tickets
here
. Seriously's been busy putting together some kickass new music. To hear some samplage, head over to their
MySpace page
and listen to "Immaculate Addiction." Very cool track. For more info on the band and this week's Roxy show, visit recently re-cobbled Seriously website
here
.