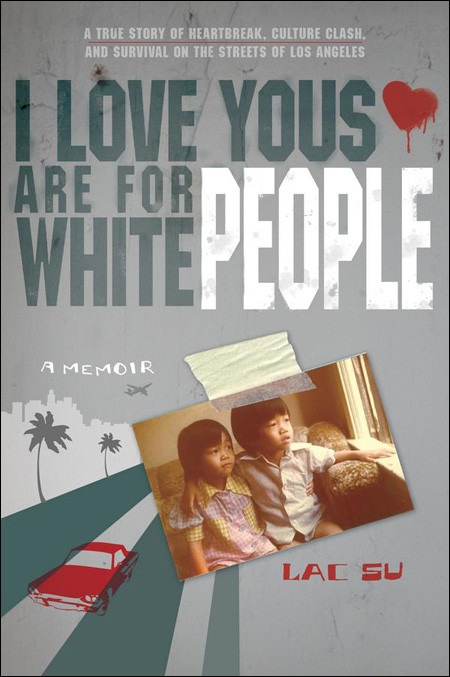 It took me a while (I am a slow reader, with many things on my 'to do' list) but I finally got around to finishing
I Love Yous Are for White People
, a memoir by Lac Su. Once I got started, I really couldn't put it down. The book is a stunning, vivid work about family, struggle, and searching for acceptance -- within both a new country and one's own family.
First of all, the book has possibly the greatest title in the history of American literature, perfectly capturing the author's true quest for affection from a father who would never utter those three words in a million years. Lac's journey, as a refugee from Vietnam to the rough streets of Los Angeles is a true American tale. Here's the description on the back of the book:
As a young child, Lac Su made a harrowing escape from the Communists in Vietnam. With a price on his father's head, Lac, with his family, was forced to immigrate in 1979 to seedy West Los Angeles where squalid living conditions and a cultural fabric that refused to thread them in effectively squashed their American Dream. Lac's search for love and acceptance amid poverty -- not to mention the psychological turmoil created by a harsh and unrelenting father -- turned his young life into a comedy of errors and led him to a dangerous gang experience that threatened to tear his life apart.

Heart-wrenching, irreverent, and ultimately uplifting, I Love Yous Are for White People is memoir at its most affecting, depicting the struggles that countless individuals have faced in their quest to belong and that even more have endured in pursuit of a father's fleeting affection.
What I love most about
I Love Yous
is not necessarily the tale itself -- I have read my share of stories about new Asian immigrants in America. What really moves me is Lac's vivid, powerful recollection of his early life, told with sensitivity, fearlessness, and a knowing nod to anyone who's been there too.
Reading this book, in all its humor and heartbreak, I couldn't help but think of my family's own immigrant experience -- nowhere near as harrowing or painful as Lac's, but also a story about assimilation, belonging, and the missteps one has to take to get there. You just get it.
I highly recommend picking up
I Love Yous Are For White People
. Hell, the book has been out since May -- I wish I had got around to it sooner. To learn more about the book, go to the Harper Collins website
here
. And check out Lac Su's MySpace page
here
. And pick up the book at
Amazon.com
and all the usual book retailers.