Red Cliff
, director John Woo's historical war drama about the legendary 208 A.D. battle at Red Cliff, is now playing in New York (and opening in more theaters next week). As I've said before, the movie -- the most expensive Asian film production of all time -- is
nothing short of epic
.
The other major thing you can't deny about
Red Cliff
: the abundant quantity of badass Chinese dudes in the starring cast. There are many of them. Thus, courtesy of the movie's publicity people, I give you
The Men of Red Cliff
:
Tony Leung
(Zhou Yu)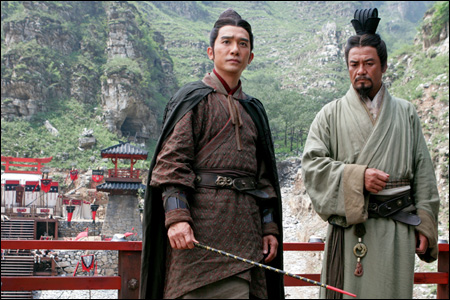 In RED CLIFF, Zhou Yu is Sun Quan's trusted advisor and Viceroy of East Wu. In addition, Zhou is a war hero who trains Sun's elite "Dare-to-Die" assault troops. Zhou is approached by Zhuge Liang (Takeshi Kaneshiro) to help him convince Sun Quan to fight Cao Cao in battle.
Zhou is married to Xiao Qiao (Chiling Lin) who is known for being the most beautiful woman in all of China.
About Tony Leung:
One of international cinema's premier leading men, Tony Leung Chiu Wai has garnered numerous awards and critical acclaim for his riveting performances in such films as LUST, CAUTION; INFERNAL AFFAIRS; IN THE MOOD FOR LOVE and HAPPY TOGETHER. In 2000, he was honored with the Best Actor Award at the Cannes Film Festival for IN THE MOOD FOR LOVE and was named one of Time Magazine's Ten Most Interesting People. As one of Hong Kong's most celebrated actors, Leung also won the Best Actor Award at the Hong Kong Film Awards six times.
Born in Hong Kong, Leung began his acting career in local television dramas. Leung worked previously with John Woo when he starred in Woo's Vietnam War epic A BULLET IN THE HEAD (1990). Leung's follow-up was another Woo collaboration, the now classic triad thriller HARD BOILED (1992).
Takeshi Kaneshiro
(Zhuge Liang)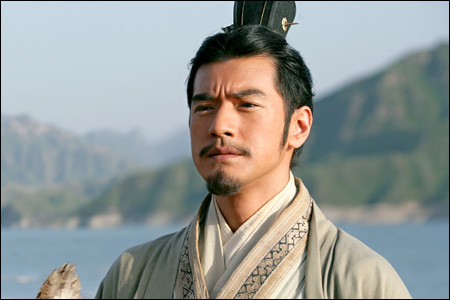 In RED CLIFF, Zhuge Liang is Liu Bei's military strategist. After a blowing attack by Cao Cao, Zhuge knows that their only hope for survival is to form an alliance with their rival warlord Sun Quan. Zhuge then goes to Sun Quan requesting his help in battling Cao Cao. Throughout the Battle of Red Cliff, Zhuge plays a major part in weakening the Cao army.
About Takeshi Kaneshiro:
Born in Taiwan to a Japanese father and a Chinese mother, the multilingual Takeshi Kaneshiro grew up in Taiwan, attending a predominantly English language international school. Whether by his own design or not, the boyishness that marked his first steps into showbiz as a teen idol has evolved into a cool, somewhat reticent demeanor that has now become his trademark. Despite being effortlessly good looking, he chooses to strike a sometimes uneasy balance between the commercially pleasing and the quirky in his choice of film roles - a move that is unusual for Asian leading men.
Kaneshiro has appeared in films such as CHUNGKING EXPRESS (1994), FALLEN ANGELS (1995), LOST AND FOUND (1996), SLEEPLESS TOWN (1998), U.S. independent film TOO TIRED TO DIE (1998), Sylvia Chang's TEMPTING HEART (1999), Zhang Yimou's HOUSE OF FLYING DAGGERS (2004), Peter Chan's PERHAPS LOVE (2006) and THE WARLORDS (2007). Because of his proficiency in several languages, Kaneshiro is able to work in the Hong Kong, Taiwan and Japanese film industries. RED CLIFF marks his first collaboration with John Woo.
Shidou Nakamura
(Gan Xing)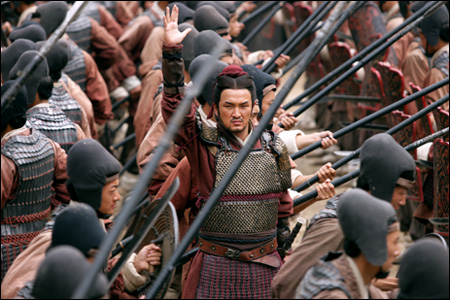 Gan Xing is a General in Sun Quan's (Chang Chen) army who helps Zhou Yu (Tony Leung) train troops for battle. Gan Xing helps Sun Quan's troops fight in the major Battle of Red Cliff.
About Shidou Nakamura:
Born in Japan, Shidou Nakamura is the heir to a famous and respected Kabuki family and began performing in Kabuki theater at the age of 8. As an actor, his breakthrough came with the film PING PONG (2002), in which he played memorably sadistic villain Dragon. For his performance, he won Best Newcomer at the Japanese Academy Awards and the Blue Ribbon Award in 2003.
After that, Nakamura's career took off in both film and television, and he has worked with some of the top directors in Japan. He has also gained international fame from the strong performances he gave in both Ronny Yu's FEARLESS (2006), playing the honorable Japanese samurai that fights against Jet Li, and in Clint Eastwood's LETTERS FROM IWO JIMA as Lieutenant Ito (2006). He also lent his voice for the anime series DEATH NOTE (2006). He most recently finished work on the Japanese film ICHI (2008). Director Woo chose Nakamura as he believes the actor embodies the spirit of Gan Xing. Woo says that he was also "impressed by Shidou's work ethic on the set. He is a fresh new face who will do very well in the future."
Hu Jung
(Zhao Yun)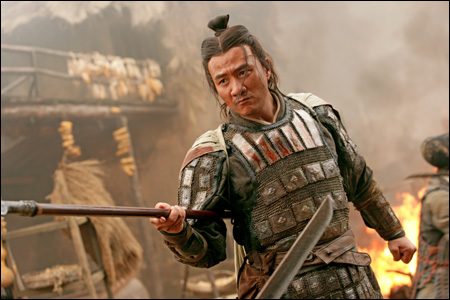 Zhao Yun is a general in Liu Bei's army. Zhao is a great warrior who even fights his way through a battalion of Cao Cao's troops while carrying Liu Bei's infant son in his armor to safety.
About Hu Jung:
Born in Beijing and of Manchurian descent, Hu Jun is one of the most charismatic actors on the Chinese screen today. He first gained worldwide attention after starring in the controversial EAST PALACE, WEST PALACE (1996), which addressed the plight of homosexuals in contemporary China. His next film, Stanley Kwan's LAN YU (2001), which tells the story of a gay couple in late 1980's China, established Hu as a serious actor who was not afraid of taking on challenging and controversial roles.
For his performance in LAN YU, Hu received numerous nominations and was awarded the Golden Bauhinia in 2002. Hu also appeared in the second part of the INFERNAL AFFAIRS TRILOGY (2003), and reunited with Stanley Kwan to make EVERLASTING REGRET (2005), for which he was nominated for a Hong Kong Film Award.
Zhang Fengyi
(Cao Cao)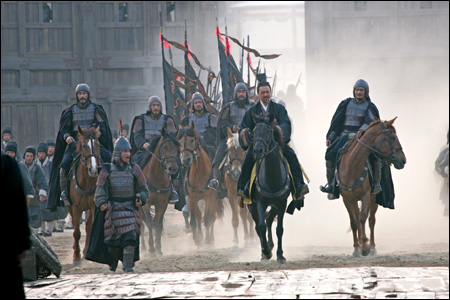 Cao Cao is the shrewd Prime Minster of the Han Empire who has a strong hand over the impressionable Emperor Han (Wang Ning). Cao Cao convinces the Emperor to declare war on the Kingdoms of Xu in the west and Wu in the south. Cao claims his intentions are to unify China for the good of the Han Empire when in actuality his motivations are more self-serving.
Cao makes it his mission to wage war against the two warlords that stand in his way, Liu Bei (You Yong) and Sun Quan (Chang Chen).
About Zhang Fengyi:
Best known internationally for his leading role in FAREWELL MY CONCUBINE, Zhang Fengyi is the greatest Chinese actor of his generation. Born in the small city of Changsha in Hunan, Zhang graduated from the Beijing Film Academy and jumped directly into making films. He became famous across China overnight after delivering a moving performance in RICKSHAW BOY (1982), the first film from Communist China to be shown in the U.S., in which he played the titular role.
Zhang has proven his versatility as an actor by being equally adept at both costume period pieces and contemporary drama and he has also branched out into television. He is best known internationally for playing one of the leads in Chen Kaige's FAREWELL MY CONCUBINE (1993), alongside Leslie Cheung and Gong Li. He also worked with Chen and Gong again on THE EMPEROR AND THE ASSASSIN (1998). He has won the Chinese Film Performing Arts Society Award three times. Since 1998, he has been semi-retired, but was convinced by director John Woo to return to the screen for RED CLIFF.