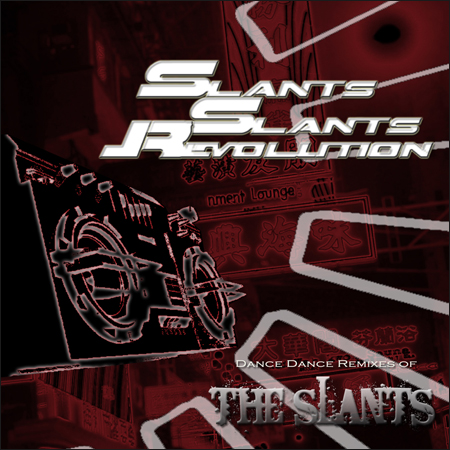 Some hot new music for you... The Portland-based "Chinatown dance-rock" band
The Slants
have just released
Slants! Slants! Revolution
, a dance-dance remix record of tracks from their 2008 debut album
Slanted Eyes, Slanted Hearts
.
Here's the cool part. The Slants will also be donating 100% of the profits from
Dance! Dance! Revolution
to cancer prevention research for Asian women. Slants assist/band manager/co-founder Simon Young explains:
Some of you know our passion to reach out to the Asian American
community. For the last few years, I've been travelling across North
America to speak to fans about API concerns, addressing racial
stereotypes, and talking to API youth about proud of their heritage.
It has been an amazing journey and we're continuing to work with Asian
festivals, conventions, and clubs around the country to promote the
beauty of Asian culture. However, I realize that there is another
subject that is not addressed enough in our community: cancer.

As an employee of the American Cancer Society, I've been working with
the organization to reach more individuals in the API community and
address health disparity concerns. I work with two ACS funded
researchers whose projects are focused on cervical cancer in Chinese
and Vietnamese women, who have the highest age-adjusted rate in the
United States (five times higher in Vietnamese women than white).
There are a number of reasons for this disparity which has existed for
quite some time, but one of the greatest reasons is lack of attention
for the issue. I'm working to change that.

To do this, I'd like to donate 100% of our profits from every sale of
"Slants! Slants! Revolution" to cancer prevention research in Asian
women. The hard copy release isn't available right now, but anyone can
check it out at ITunes, Amazon MP3, and the standard digital outlets.
If you haven't heard of The Slants, they're kind of a blast from the past. Think synth-driven rock with an Asian twist. The first time I heard this band I thought I had popped in a CD from 1991 -- and I absolutely mean that in the best way possible.
Remember that old-school Asian love for Depeche Mode, New Order, Joy Division, et al? Y'all know what I'm talking about. The Slants love them too, and they're bringing their own special mix of rock with darker dance themes, tinged with a healthy dose of yellow power. Forget the Killers.
Slants! Slants! Revolution
isn't too much of a revolution -- just less rock, and all dance. Meanwhile, the band is currently in the studio writing and recording their next full-length album, which will apparently focus more on the band's rock side.
The hard copy release isn't quite available yet, but you purchase
Slants! Slants! Revolution
right now from
iTunes
,
Amazon MP3
and other digital outlets. To learn and hear more from The Slants, visit the band's Myspace page
here
and their YouTube channel
here
.