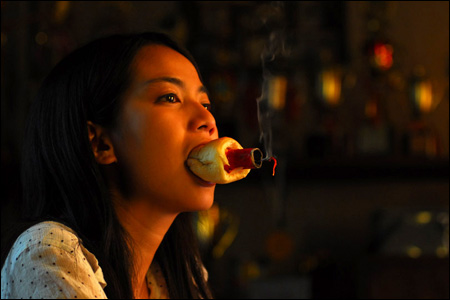 Another one for my friends up north... Next week, November 11-15, check out the
13th Annual Toronto Reel Asian Film Festival
, a unique showcase of contemporary Asian cinema and work from the Asian diaspora. Works include films and videos by East and Southeast Asian artist in Canada, the U.S., Asia and all over the world.
The festival is Canada's premier pan-Asian international film festival, fostering the exchange of cultural and artistic ideals between east and west. It provides a public forum for homegrown Asian media artists and their work, and fuels the growing appreciation for Asian cinema in Canada.
Check out the full
festival schedule
, which includes films like Alan Mak & Felix Chong's
Overheard
, H.P. Mendoza's
Fruit Fly
, and David Boyle's
White on Rice
. Also be sure to check out the festival's Centerpiece Presentation, a rare screening of Wen Yimin's 1929 silent martial arts film
Red Heroine
.
Want something free? I'm giving away one pair of tickets to see the movie with the best title in the entire festival, Edwin's
Blind Pig Who Wants To Fly
, screening Sunday, November 15 at Innis Town Hall/Innis College. If you're interested, just
email me
with your name and contact info by the end of Monday, November 9. Be sure to include
"REEL ASIAN TICKETS"
in the subject line. I'll pick a winner at random, and you and a friend will be on your way to see
Blind Pig
!
For more information about the festival, including the program schedule and how to purchase tickets, visit the Reel Asian Film Festival website
here
. Good times, Toronto.