John Woo's
Red Cliff
, which opened in theaters in New York last week, opens in
more theaters
today. In honor of the badass Chinese dudes in the movie, I did a little post highlighting
The Men of Red Cliff
. People seemed to dig it, so I figured I should give some props to the women too. And so, courtesy of movie's publicity folks, here are
The (two) Women of Red Cliff
:
Zhao Wei
(Sun Shangxiang)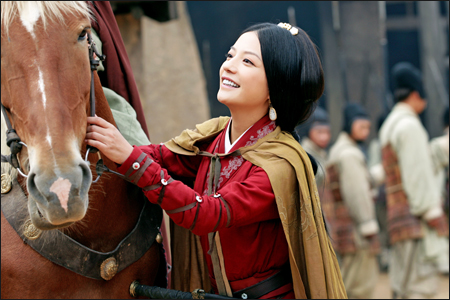 In RED CLIFF, Sun Shangxiang is Sun Quan's (Chang Chen) tomboyish sister who proves herself a brave warrior by disguising herself as a male Cao soldier and acting as a spy. On her return, she provides the East Wu generals with a complete map of the Cao camp, which the allies use to plan their attack.
About Zhao Wei:
Born in Wuhu, Anhui Province, China, Zhao Wei (sometimes known as Vicky Zhao) has enchanted audiences the world over. Though she initially planned to be a teacher, Zhao fell in love with film after appearing as an extra in LA PEINTRE (1994), starring Gong Li. She studied under master Chinese director Xie Jin and went on to attend the Beijing Film Academy. While Zhao appeared in both film and television, it was not until 1998 when she starred in the TV drama PRINCESS PEARL (1998) that she got her big break. After giving a striking performance as the eponymous heroine, Zhao became a household name in China.
Since then, she has starred in many critically acclaimed Asian films including Stephen Chiau's SHAOLIN SOCCER (2001); the Wong Kar-wai produced CHINESE ODYSSEY 2002 (2002), which netted her a Golden Horse Award nomination; Corey Yuen's SO CLOSE (2003); and Ann Hui's JADE GODDESS OF MERCY (2003).
In addition to her film and television careers, Zhao is also a popular singer and spokesmodel in China. Outside of her professional endeavors, Zhao is known for her charity work, and she has set up a scholarship fund in Wuhu for children. She recently appeared in Ann Hui's THE POSTMODERN LIFE OF MY AUNT (2006), for which she received a second nomination for a Golden Horse Award.
Chiling Lin
(Xiao Qiao)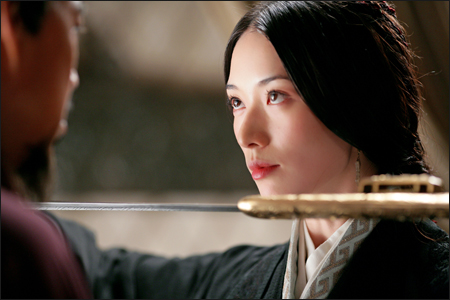 In RED CLIFF, Xiao Qiao is married to Zhou Yu (Tony Leung), Viceroy of East Wu. Xiao Qiao is known for being the most beautiful woman in all of China. Her father was actually very close with Zhou Yu's rival, Cao Cao (Zhang Fengyi), many years ago. It is rumored that Cao Cao's motivation for going to war was really an effort to win Xiao Qiao's heart.
About Chiling Lin:
Known as the most beautiful woman in Taiwan, Chiling Lin was born in Taipei. She began modeling as a teenager, before going to Toronto where she attended the University of Toronto and impressively double majored in Western Art History and Economics, proving that she is not just another pretty face.
Upon returning to Taiwan in 1999, she quickly became a popular model, due to her elegant style, innate beauty and beguiling charm. By 2004, she had risen to become the top model in all of Taiwan, as well as achieving great popularity in China and Hong Kong. She is now the spokesmodel for many companies in Asia, including the Swiss watch company Longines and China Airlines.
She is popularly thought of as the Asian Audrey Hepburn, who is, coincidentally, Lin's favorite actor. Respected both for her beauty and intelligence, Lin is also a popular television host. She met director John Woo for the first time when she hosted the Golden Horse Awards in 2005. When Woo met her again a year later, he was so impressed with her talents that he immediately cast her in her first feature film role as Xiao Qiao.