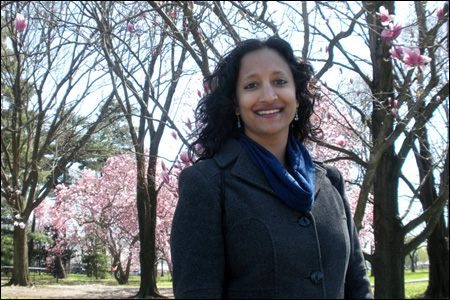 Awww yeah. Coming at ya with the another
Angry Reader of the Week
, spotlighting you, the very special readers of this website. Over the years, I've been able to connect with a lot of cool folks, and this is a way of showing some appreciation and attention to the people who help make this blog what it is. This week's reader is Sumi Pendakur, Director of Asian Pacific American Student Services at USC.
Who are you?
My name is Sumun Lakshmi Pendakur. I am the Director of USC Asian Pacific American Student Services, an educational and advocacy center. I am also a doctoral student at the USC Rossier School of Education, studying higher education leadership, and in the final year of my program!
What are you?
I am a multilingual brown woman, a desi, a feminist, an Asian American, a leftist, a child of immigrants, a person of color, an ally, and a loudmouth :). I am a daughter, a wife, a sister, and a friend. I am a mentor, an activist, a hugger, and a secret Bollywood star.
Where are you?
I am currently at my desk in my office on campus.
Where are you from?
What kind of question is that? That's racist! Okay, okay, here's the answer: I was born in Seattle, Washington, raised entirely in Evanston, Illinois, and, after college, have lived in New York City, Ann Arbor (Michigan), and now West Hollywood/Los Angeles. But I have strong ties to the motherland. My parents are from Karnataka, India, and because of so much time spent in India, I'm a transnational kind of gal.
What do you do?
I lead an incredible team of hardworking staff and students to create programs that are focused on education, engagement, and empowerment for Asian American and Pacific Islander students. I also develop and collaborate on the creation of cross-cultural learning opportunities. I help keep alumni, community members, students, and faculty/staff connected, with an eye toward building community. I serve as a campus-wide educator on a variety of topics, ranging from social justice to Asian American community diversity/disparities to racial identity development to becoming an ally to the LGBTQ community. I also love to read (especially historical romance novels!), watch movies, dance, go on dates with my husband, be with friends and family, and travel.
What are you all about?
I am all about justice, equity, and human rights. I am all about love and compassion. I am all about the value of education for all. I am all about laughter.
What makes you angry?:
The false idea that we are in a "post-racial" America - we still have a long way to go. The illegal U.S. invasion of Iraq and the occupation. The fact that we will be paying for these wars in multiple ways for decades to come. That ballot initiatives can determine peoples' civil rights. That I do not have total control over my own body. That it is women's bodies that pay the highest toll of war, occupation, and genocide. The inequitable state of public education in the U.S. Crappy sitcoms, most reality TV, and the neocon talking heads on TV that inexplicably shape public opinion. Ummm…there's a lot more, but I don't want to scare people with my brown rage. :)