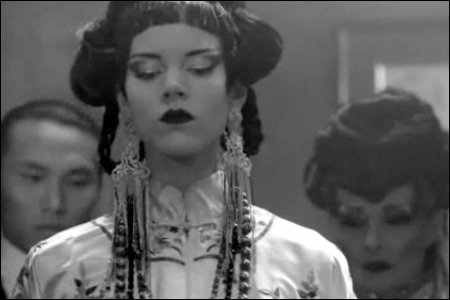 Received several emails about this weird-ass short film
Paris-Shanghai
, written and directed by Karl Lagerfeld, and starring supermodels Freja Beha Erichsen, Heidi Mount and Edita, about a fantasy trip legendary couturier Coco Chanel made to Shanghai ("the trip Coco Chanel only made in her dreams"). "Fantasy" being the key word.
It's not a particularly good film by any means, and as good reader Frida points out, it employs
"a lot of incredibly obvious, are-you-kidding-me-is-that-eyetape yellowface."
It's pretty ridiculous. You've Freja as a Chinese courtesan and Baptiste as the Chinese emperor, with a couple of legitimate Asian faces sprinkled in for minor roles, including Tao Okamoto as a Chinese woman. Watch it
here
.
It's rather unwatchable -- I didn't make it very far. And yes, the whole thing is a very deliberate attempt at yellowface. Lagerfeld has explained that the film is "an homage to Europeans trying to look Chinese," like in the movie
The Good Earth
. How edgy. Well, then he's certainly succeeded -- these people look just as stupid as the actors in
The Good Earth
:
Karl Lagerfeld Endorses "Yellow Face."