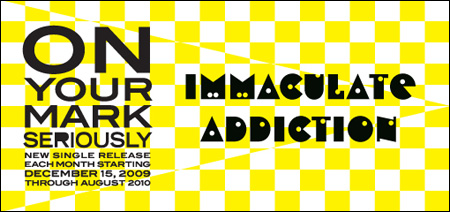 The boys of
Seriously
, aka Chris Pham, Joshua Baek, Nathan Park and Philip Park, are back with some brand new music, and I like it.
Their new single,
"Immaculate Addiction"
is officially out today -- the first track from
On Your Mark
, a nine month-long single release campaign. Each month, over nine months, the band will digitally release a new song, bypassing the traditional hard copy album format. It's what the kids are doing these days.
Catchy hooks, solid production, Chris Pham's cool vocals... If you liked their debut EP, you'll like this. But it also definitely signals a new kind of sound for Seriously -- funky grooves, drum machines, synthesizers and other electronic shenanigans. Still good, but different.
For more info about the band, go to the Seriously website
here
. Preview the music at MySpace
here
, and download "Immaculate Addiction" at the usual digital retailers like
iTunes
and
Amazon
.