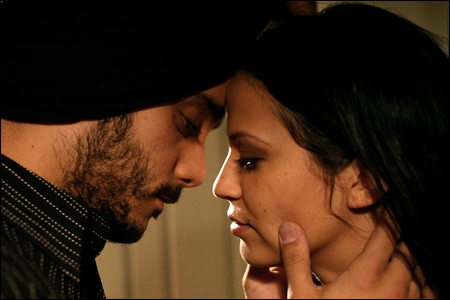 For those of you in Southern California, Sarab Singh Neelam's award-winning debut feature
Ocean of Pearls
opens this Friday, December 18 for a week-long theatrical run at Laemmle's Sunset 5 in West Hollywood. Here's the film's synopsis:
Amrit Singh is of two worlds, but belongs to neither. A turban-wearing Sikh, he has lived his life in North America out of sorts and out of place, cast adrift at an uneasy crossroads between East and West. But when he is offered a prestigious position as a transplant surgeon in a Detroit hospital, the young doctor sees it as a opportunity to start fresh. He struggles to be the man he believes he is and at the same time the person he wants to be. His ambitious pursuit of success, however eventually leads to tragedy and it is only in defining his singular identity that he finds peace.
It's a great story, with a lot of heart. View the trailer
here
. The film stars Omid Abtahl, Hather McComb, Ron Canada, Navi Rawat and Ajay Mehta. Here's some more information about the Los Angeles theatrical release:
OCEAN OF PEARLS
Los Angeles Theatrical Premiere

Laemmle's Sunset 5
8000 Sunset Boulevard
West Hollywood 90046
323.848.3500

Friday, December 18 - Thursday, December 24, 2009

Showtimes 1:50 p.m., 4:40 p.m., 7:30 p.m. & 10:00 p.m.
(Subject to change)

Tickets: $10.00
Students with ID: $8.50
Seniors Over 62 and Children Under 12: $7.00

Rated PG-13 for brief strong language and thematic elements.
The director will be present at the 7:30pm show for a post-screening Q & A. For more information about the film, go to the
Ocean of Pearls
website
here
. If you're not in the area, but still want to see the film, they're looking for folks to support the grassroots DVD release. To learn more, go
here
.