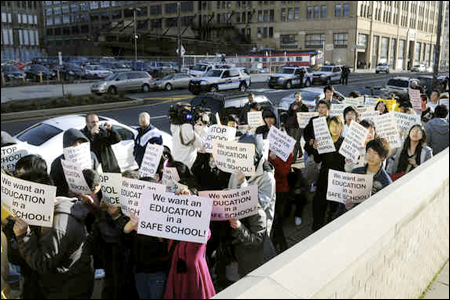 Yesterday in Philadelphia, more than 200 people packed into the school board to support the dozens of Asian students from South Philadelphia High School who were assaulted last week in a
day-long attack
at the school. The students spoke at the School Reform Commission meeting, held at the district offices:
Asian students describe violence at South Philadelphia High
As you know, the students are
boycotting
the school this week because the administration has completely failed to provide any plan for their safety and hasn't acknowledged the seriousness or racial motivation for the attacks. In addition, they believe certain staff at the school have made negligent decisions and exhibited poor conduct toward the kids.
Instead, the kids have been working with Asian Americans United, Philadelphia Chinatown Development Corporation and a number of other agencies to research their situation, meet with district and community leaders and come up with a list of suggestions to go forward.
At the meeting, in her first remarks on the subject, Superintendent Arlene Ackerman said the South Philadelphia violence "is only a symptom of a more serious problem which has its roots in racism -- not only in our schools, but in the larger community. It is the proverbial elephant in the room."
According to the superintendent, the district has beefed up security in and around the school and has formed a Task Force for Racial and Cultural Harmony to recommend changes, both at South Philadelphia and districtwide. A U.S. Department of Justice program will work with students on racial and ethnic issues:
Pa Human Rights will air strife on South Philly High
.
Meanwhile, the students thank you for your financial contributions and offers of help. Don't let the powers that be off the hook -- we have keep pressure on the school board and mayor to see this through, so keep the letters, calls and emails coming. You can use the contact info at the bottom of
this post
.