The
2010 Sundance Film Festival
kicks off today. I'm a little bummed that I won't be heading to Park City, Utah to partake in the festivities, but things just didn't work out this year. The film I'm most looking forward to eventually seeing:
The Taqwacores
, directed by Eyad Zahra, and based on the influential novel about punk Muslim American youth. Watch the
trailer
above.
I'm not going, but our friend Taz from
Sepia Mutiny
is in Park City right now. She has a rundown of all the films she's looking forward to checking out, including
The Taqwacores
, Gurinder Chadha's
It's a Wonderful Afterlife
and
Four Lions
:
On the Road to Sundance
. Have fun, Taz! Hope you get to meet Sendhil Ramamurty.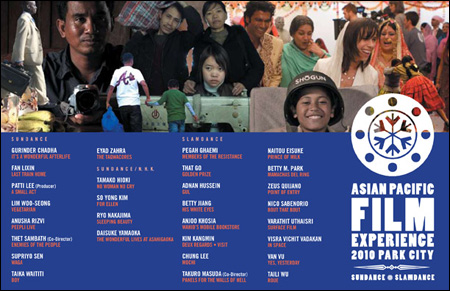 Here's a big list, courtesy of the
Asian Pacific Film Experience
, of all the Asian Pacific directors and/or producers whose work will be screening over the next week in Park City, both at the Sundance and Slamdance film festivals:
S U N D A N C E

GURINDER CHADHA
IT'S A WONDERFUL AFTERLIFE

FAN LIXIN
LAST TRAIN HOME

PATTI LEE (Producer)
A SMALL ACT

LIM WOO-SEONG
VEGETARIAN

ANUSHA RIZVI
PEEPLI LIVE

THET SAMBATH (Co-Director)
ENEMIES OF THE PEOPLE

SUPRIYO SEN
WAGA

TAIKA WAITITI
BOY

EYAD ZAHRA
THE TAQWACORES


S U N D A N C E / N. H. K.

TAMAKO HIOKI
NO WOMAN NO CRY

SO YONG KIM
FOR ELLEN

RYO NAKAJIMA
SLEEPING BEAUTY

DAISUKE YAMAOKA
THE WONDERFUL LIVES AT ASAHIGAOKA


S L A M D A N C E

PEGAH GHAEMI
MEMBERS OF THE RESISTANCE

THAT GO
GOLDEN PRIZE

ADNAN HUSSEIN
GUL

BETTY JIANG
HIS WHITE EYES

ANJOO KHOSIA
WAHID'S MOBILE BOOKSTORE

KIM KANGMIN
DEUX REGARDS • VISIT

CHUNG LEE
MOCHI

TAKURO MASUDA (Co-Director)
PANELS FOR THE WALLS OF HELL

NAITOU EISUKE
PRINCE OF MILK

BETTY M. PARK
MAMACHAS DEL RING

ZEUS QUIJANO
POINT OF ENTRY

NICO SABENORIO
BOUT THAT BOUT

VARATHIT UTHAISRI
SURFACE FILM

VISRA VICHIT VADAKAN
IN SPACE

VAN VU
YES, YESTERDAY

TAILI WU
ROUE
And if you are headed to Sundance, be sure to stop by the annual
Meet the Filmmakers Reception
this Sunday, January 24, 4-6:00pm at China Panda Restaurant. For more information about the Asian Pacific Film Experience, go
here
. Bundle up, stay warm, and have fun.