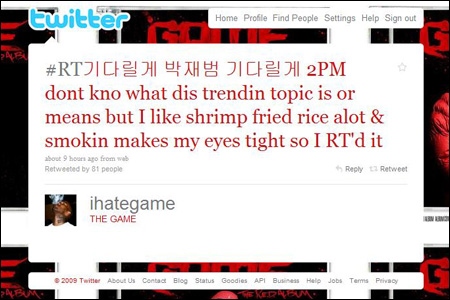 This is the situation, as I understand it. For the past couple of days, fans of the Korean pop group 2PM were tweeting
"#RT기 다릴게 박재범 기다릴게 2PM"
(never mind what it means) to show love the group's ousted Korean American leader Jaebum, who had been kicked out by his company for anti-Korean comments he made on his MySpace page a while back (which is a whole different drama, and not really relevant for this story).
Fans managed to make the 2PM tweet a pretty popular trending topic, which got a lot of people curious about what the hell the Korean phrase meant. Others, like rapper
The Game
, simply saw something foreign and "Oriental" and decided to mock it with an ignorant-ass tweet like this:
"#RT기 다릴게 박재범 기다릴게 2PM dont kno what dis trendin topic is or means but I like shrimp fried rice alot & smokin makes my eyes tight so I RT'd it"
For some people, the sight of a weird Asian language will always simply equal Chinese takeout and chinky eyes. Thanks for showing the love, Game -- for both shrimp fried rice and 2PM. Your blind idiot re-tweet just supported a South Korean pop group in a time of great distress for their fans. That's real gangsta, and they thank you. (Thanks, Jisun.)