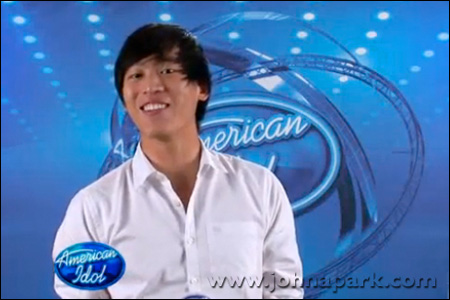 It seems that
American Idol
contestant
John Park's
memorable audition left a big impression on a lot of people. EW.com has made a list of its
top 20 singers
from season 9's first two weeks, and guess who they'e ranked #1?
1. John Park (New this week; pictured, left): The rich, buttery baritone he displayed on Blood Sweat & Tears' "I Love You More Than You'll Ever Know" was perhaps the tastiest treat to come out of the first four audition episodes of season 9. Plus, his lips, teeth, and bottom end have Shania Twain's stamp of approval. How can you not get behind the guy?
Wow. Just two weeks into this season's auditions, he's emerged as one of the early fan favorites. I believe it. This guy's got the stuff that could take him all the way, and I'm looking forward to seeing him compete in Hollywood. In the meantime, I just heard from Don and Laura Chin, who have launched a John Park
fansite
.