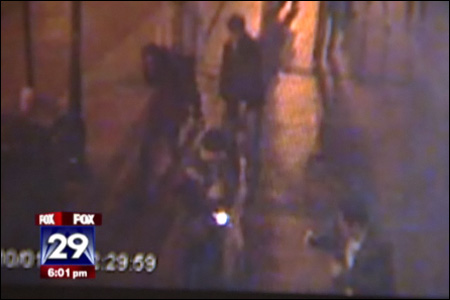 Some news out of Philadelphia... not involving South Philadelphia High School. Last week, Gerald Ung, a 28-year-old Temple University law student was charged with attempted murder, assault, and violation of the Uniform Firearms Act for shooting Edward DiDonato after a late-night altercation on the street:
Temple Law student charged in shooting of Villanova grad
.
Ung is accused of shooting DiDonato in his hand, chest and abdomen six times, though he told authorities he acted in self-defense. According to police sources, the trouble may have started when someone bumped into DiDonato. Cameras outside a local Fox studio caught the incident on tape:
Video: Man Shot In Front of Fox 29
.
I don't exactly know what the hell happened here. Despite dozens of witnesses at the scene, details about what led to the shooting are pretty limited. Supporters on both sides of the incident are painting different pictures of both men, their character, and what exactly occurred that night...
DiDonato is in critical condition, but apparently hanging in there:
Old City shooting victim to undergo 4th operation
. Family members are saying he stepped in front of the gun to save his friends:
Nova grad reportedly stepped in front of gun to save friends in Old City shooting
.
But Ung's friends have quickly come to his defense, calling him "the opposite of a troublemaker" and saying he carried a gun for protection and was not easily provoked:
Suspect is no troublemaker, friends say
. It should be noted that Ung did not flee the scene and called police after the shooting.
Did Ung act in self-defense? My guess is, yes -- ultimately, he fired the gun in an effort to defend himself. Did DiDinato want to start some shit? The guy was doing chin ups on the street at 2:30 in the friggin' morning. Call me crazy, something strongly suggests that overall, this was not a night of good decisions.
Does any of that justify the use of a goddamn handgun? Hell no. I'll let gun control debaters work it out, but I'm extremely uncomfortable with the notion that Ung was carrying around a gun in the first place. Without making judgments about Gerald Ung, this certainly
doesn't help
dispel the unhealthy post-Virginia Tech notion of Crazy-Gun-Toting-Asian-Men.
But you know, I wasn't there. And it's not like Philadelphia has had the friendliest reputation towards Asians lately. If my friends and I were threatened, in the same situation, who knows what I'd do? Yeah, I'm full of contradictions. More here:
The Temple Law Student Shooter: Questions Abound Was it self-defense? Was the victim a 'hero'?