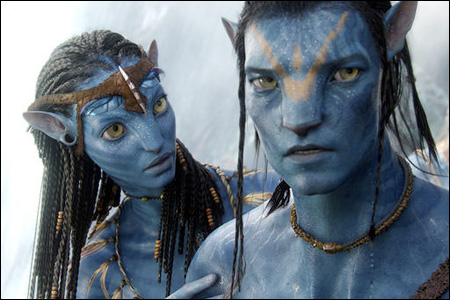 Over the weekend, director James Cameron's sci-fi epic
Avatar
, with an international total of $1.288 billion, surpassed
Titanic's
13-year overseas box office record. It's easily on pace to soon topple both the domestic and worldwide box office records. For those keeping score, here's the official count (thus far):
Domestic Box Office: $552,797,000
Worldwide Box Office: $1.8361 billion
Golden Globe Awards: 2
Critics Choice Awards: 6
BAFTA Award Nominations: 8
Deceased Moviegoers: 1
Just how amazing are
Avatar's
visual effects? In Taiwan, a 42-year-old man with a history of high blood pressure has died of a stroke likely triggered
by watching Avatar
in 3-D:
Man died after watching Avatar - doctor
.
It's true -- the movie is visually stunning... but stroke-inducing? The man, Mr. Kuo, reportedly started to feel unwell during the screening earlier this month and was taken to the hospital, where a scan showed that his brain was hemorrhaging.
According to the doctor, it's likely that over-excitement triggered his symptoms. It was actually that exciting. He died 11 days later from the brain hemmorhage. This is the first reported death linked to watching
Avatar
. So be careful out there.