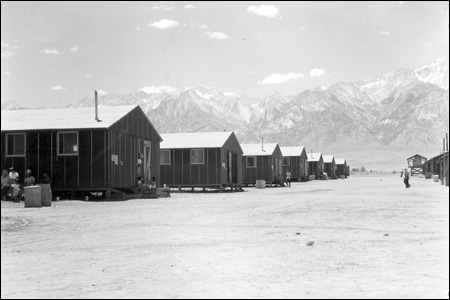 Next month, the National Park Service, Friends of Manzanar and the Manzanar History Association invite the public to attend a barracks groundbreaking event at the
Manzanar Historic Site
. When completed, the project will reconstruct barracks to accurately represent what baracks life was like for Japanese American internees.
While in operation during World War II, Manzanar War Relocation Center confined more than 10,000 Japanese Americans in 36 blocks. Each block included 14 barracks buildings, a mess hall, a recreation building, latrines, and laundry and ironing rooms. After the war, the buildings were sold for scrap lumber or relocated.
In 1997, in consultation with the Manzanar Advisory Commission, former internees, historians and others, the National Park Service approved the development of Block 14 as a "demonstration block" to interpret daily life in the camp. Last year, Congress approved funding for reconstructing Barracks 1 and 8 on Block 14.
Barracks 1 will appear as it would have when Japanese Americans first arrived at Manzanar in 1942. Barracks 8 will be reconstructed to represent barracks life in 1945. A restored World War II mess hall moved to the site from Bishop Airport in 2002 will be open to visitors later this year.
The groundbreaking event will take place Saturday, February 14 at 1:00pm. For more information, take a look at the press release:
Manzanar Barracks Groundbreaking Set For February 13, 2010
. And to learn more about the Manzanar National Historic Site, go
here
.